INSTITUT
DE RECHERCHES SOCIALES
TELEPHONE 27.915
GENEVE, LE 23.7.1940
PALAIS WILSON
Herrn
Professor Dr. Fritz Neumark
Mühürdar Kaddasi
Istambul – Kadiköy
Lieber Herr Professor Neumark,
Unter der Liste der Ausgebürgerten, die das offizielle Organ "Deutscher Reichsanzeiger und Preussischer Staatsanzeiger" jeweils veröffentlicht, finden sich in der Nummer 161 vom 12.7.1940 abends unter lfd. Nummer: 109, 110, 111 und 112 in folgender Reihenfolge:
Neumark, Fritz, geb. am 20.07.1900 in Hannover
"         Erika, geb. Sievers, geb. am .6.8.1900 in Hamburg
"         Matthias, geb. am 27.4.1927 in Frankfurt a/M.
"         Veronika, geb. am 8.1.1931 in Frankfurt a/M.
Ich nehme an, dass es sich hierbei um Sie und Ihre Familie handelt und dass Ihnen das Wissen um diese Ausbürgerung, die nur in vorerwähnter Zeitung bekanntgegeben wird, wichtig ist. Gleichzeitig wird eine Vermögensbeschlagnahme ausgesprochen, gegen die es kein Rechtsmittel vor dt. Gerichten gibt. Eine Verfallserklärung derart beschlagnahmter Vermögen erfolgt meistens einige Monate später.
Das dritte Heft von Jahrgang 1939 unserer Zeitschrift kommt vorläufig nicht heraus. Dagegen soll demnächst eine Zusammenstellung von Artikeln in englischer Sprache unter dem Titel: "Studies in Philosophy and Social Sciences" in New York erscheinen, die einen Ersatz für das zu erwartende Heft 3/1939 darstellt. Sobald es die Verhältnisse erlauben, wird dieses Heft, das weiter hauptsächlich in deutscher Sprache gehalten sein soll, bei Oprecht in Zürich erscheinen.
Ich hoffe, dass es Ihnen den Verhältnissen entsprechend gut geht, was ich auch von mir sagen kann.
Mit den besten Grüssen
J. Favez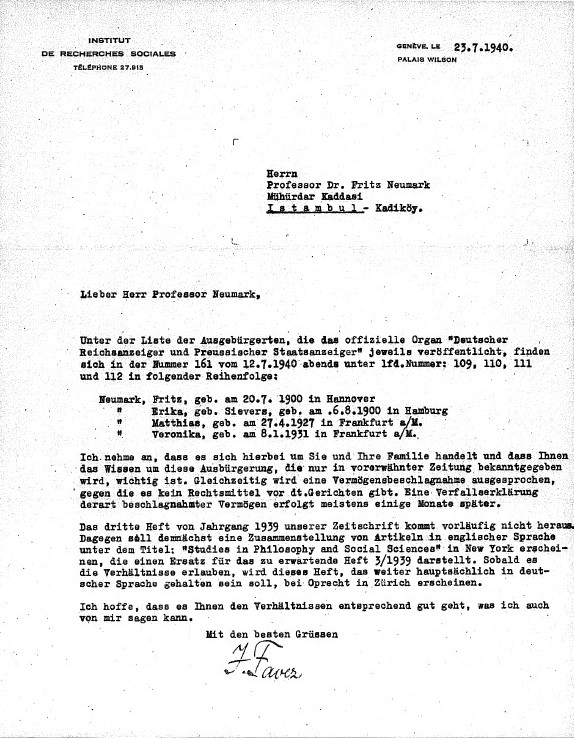 Mr.
Professor Dr. Fritz Neumark
Mühürdar Kaddasi
Istambul – Kadiköy
Dear Professor Neumark,
Among the list of expatriates published by the official organ "Deutscher Reichsanzeiger und Preussischer Staatsanzeiger" in the evening of 12 July 1940, number 161, under serial number: 109, 110, 111 and 112 in the following order:
Neumark, Fritz, born 20.07.1900 in Hannover
"            Erika, born Sievers, born on 6 August 1900 in Hamburg.
"            Matthias, born on 27.4.1927 in Frankfurt a/M.
"            Veronika, born on 8.1.1931 in Frankfurt a/M.
I assume that this concerns you and your family and that the knowledge of this expatriation, which is only announced in the aforementioned newspaper, is important to you. At the same time a confiscation of property is pronounced against which there is no legal remedy before German courts. A declaration of forfeiture of assets seized in this way usually follows a few months later.
The third issue of 1939 of our journal will not be published for the time being. On the other hand, a compilation of articles in English under the title "Studies in Philosophy and Social Sciences" is to be published soon in New York, which will replace the expected issue 3/1939. As soon as conditions permit, this issue, which will continue to be mainly in German, will be published by Oprecht in Zurich.
I hope that you are doing well according to the circumstances, which I can also say about myself.
With best regards
J. Favez
Fritz Neumark was a financial scientist who emigrated to Turkey in 1933 because of his Jewish background. He became a professor at the University of Istanbul. The document is certificate of his appointment to the chair of social hygiene and statistics. He reported on this period in 1980 in his book Zuflucht am Bosporus (Refuge on the Bosphorus), from which excerpts on specific topics of the exile are included here. In 1952 he returned to the University of Frankfurt am Main as a professor.
Letter to Fritz Neumark about his expatriation from the National Socialist German Reich © Deutsche Nationalbibliothek, Deutsches Exilarchiv 1933-1945, Frankfurt am Main, Reproduction from the Neumark Collection, EB 91/155 II. B. 007.