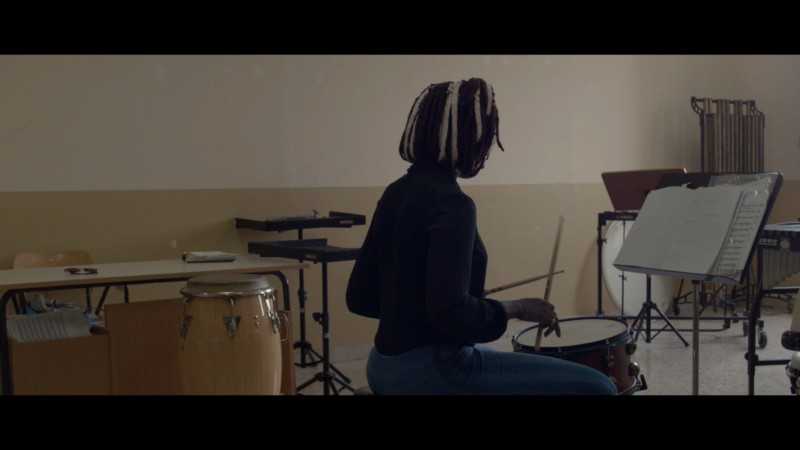 "My name is Fatima. I am from Gambia. I am 19 years old. I have been here in Italy for two and half years. I arrived in Italy in 2016 May 7th. Since I arrived in Italy, I have gone to school to get my diploma. I don't know how things work, so if I learn something, it will be better for me. I don't have any parents here, I don't have anyone to help. But there are people who rescue me and are really helpful in my life because they take me to school. It's up to me to go to school. I know what I want in life and I also know what I want to be in the future. So I agreed with them to go to school. I am taking my diploma, terza media.
[…]
For girls like me, I know it's difficult. We don't have time to do some stuff. Some people are in a hurry to make money but my friend says, "You can empty your pocket to find knowledge, and afterwards, your knowledge will fill your pocket." I think it's an important proverb, right?
[…]
Especially girls – none of my friends go to school, none of them. People go, but few. The only boy I see going to school is the one I talked about. He is going to school with me. Girls are not going to school because most of my friends say they are not here to go to school. They are here to follow their dreams. But you can't follow your dreams without learning. Without knowing anything. If you don't know anything, who will give you a job? It's not possible.
One of my friends doesn't have documents. They rejected her because she doesn't go to school. She always sleeps, makes calls, does stuff. And when she goes to commission, she doesn't have anything to say about what she was doing in her free time since she arrived in Italy. She has nothing to say and they just give her a negative. And my friends are blaming this and that.
I always advise my girls, "You can still have free time and do something good with it. We cannot just be outside fooling ourselves. This will not help. Because one day, we all want to become something.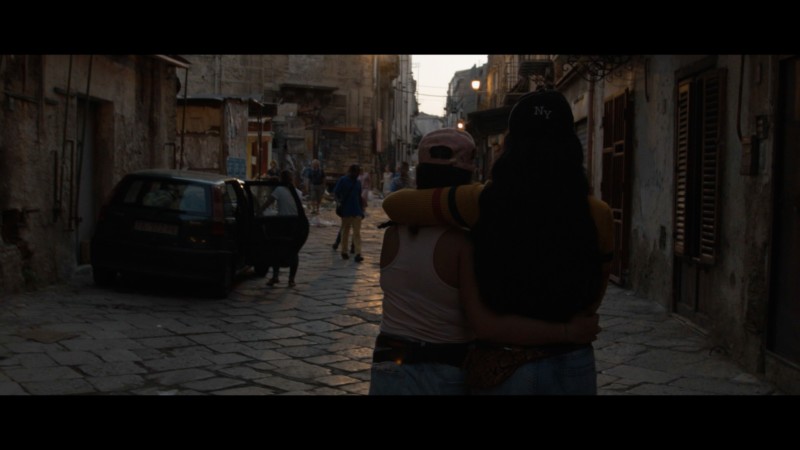 It makes no sense." One day, I was going to terza media and in the afternoon doing something, I was meeting friends, going around, entering places, I was just sitting down. I said to myself, "Does this make sense? What am I doing? No, I cannot continue like this."
That is how I focused on my school. Otherwise, I would sleep or look at my phone. And this doesn't make sense to me. I punished myself. I don't have time. I don't stay home. But this is not for now, we are doing it for afterwards, afterwards you will have your independence. I don't say you don't need someone. But it has a limit. I hate it when – we cannot know everything, we help each other – but I hate when I have to ask for everything, every little thing. Like to write my name: How should I write my name? And everything is in front of you, but you still have to ask. If you don't learn, this will happen to you. I experience this every time when I go out: simple things, simple instructions that people like me cannot do. They just don't want to know it. Also, to learn the language is important. You still want to work. If you don't want to go to school to learn the language, there are other options like having Italian friends. We don't know where we are going to and we all want to end up in good hands.  If we don't organize ourselves now, it will just become worse. Where I work now they help migrants like me to find a job and also make a curriculum. They also asked me if some of my friends want to make the curriculum or do a tirocinio (internship), so we could do the currciculum together. Sometimes I translate. I am not good in Italian but I try. So I just translate. Some of them are here for three years, one is here for eleven years, and they don't speak Italian. He doesn't want to speak it, it doesn't make sense."
Interview with Fatima D., 12 June 2019, Palermo
Fatima D. is from Gambia and came to Palermo in May 2017. She is one of many refugee minors who came unaccompanied by adults. According to Unicef, 12,700 children came to Europe unaccompanied in 2018. 11Unicef: Latest Statistscs and Graphics on Refugee and Migrant Children, in: Unicef, 2019, https://www.unicef.org/eca/emergencies/latest-statistics-and-graphics-refugee-and-migrant-children (09.09.2019)
Every day, Fatima talks to her mother on the phone, who still is her most important person. She attends school and the conservatory in order to make her dreams come true. Fatima plays the Djembé and wants to become a singer.
Footnotes

1

Unicef: Latest Statistscs and Graphics on Refugee and Migrant Children, in: Unicef, 2019, https://www.unicef.org/eca/emergencies/latest-statistics-and-graphics-refugee-and-migrant-children (09.09.2019)
How were the films and fragments in Palermo made?
Diawara B. and Diallo S. from Giocherenda held a three-day workshop with six participants in Palermo: Glory M., Fatima D., Ismail A., Kadijatu J., Marrie S. and Mustapha F. Mixing different approaches and games, the group exchanged personal experiences and shared them in the black box in front of the camera. Furthermore, Fatima D., Ismail A. and Mustapha F. consented to being portrayed in short films by the We Refugees Archive film crew beyond the workshop. The portraits deal with their lives in the city.
Giocherenda is a professional organization led by, for and with young refugees in Palermo that offers storytelling games. Its aim is not to help refugees and support them, but the opposite: refugees bring locals together for the sake of exchanging their experiences with refugees.
The word Giocherenda stems from the Fula language Pular, primarily spoken in Guinea, and connotes solidarity, interdependence and strength generated from people getting together. Phonetically, it resembles the Italian word "giocare" (to play), which inspired the collective to develop games for the sake of producing narratives and personal memories.
Refugees' perspectives
In the interviews, the film crew consciously abstained from screenplays and standardized questions. Instead, the refugees directed the course of the interview and discussed only those topics they were willing to speak about. With We Refugee Archive's mission in mind, the participants' personal experiences in Palermo and their visions for the near future was the rough focal point. Thus, experiences during and personal trajectories of forced migration to Europe were shared and discussed at the individual's own will and not required nor elicited on demand.