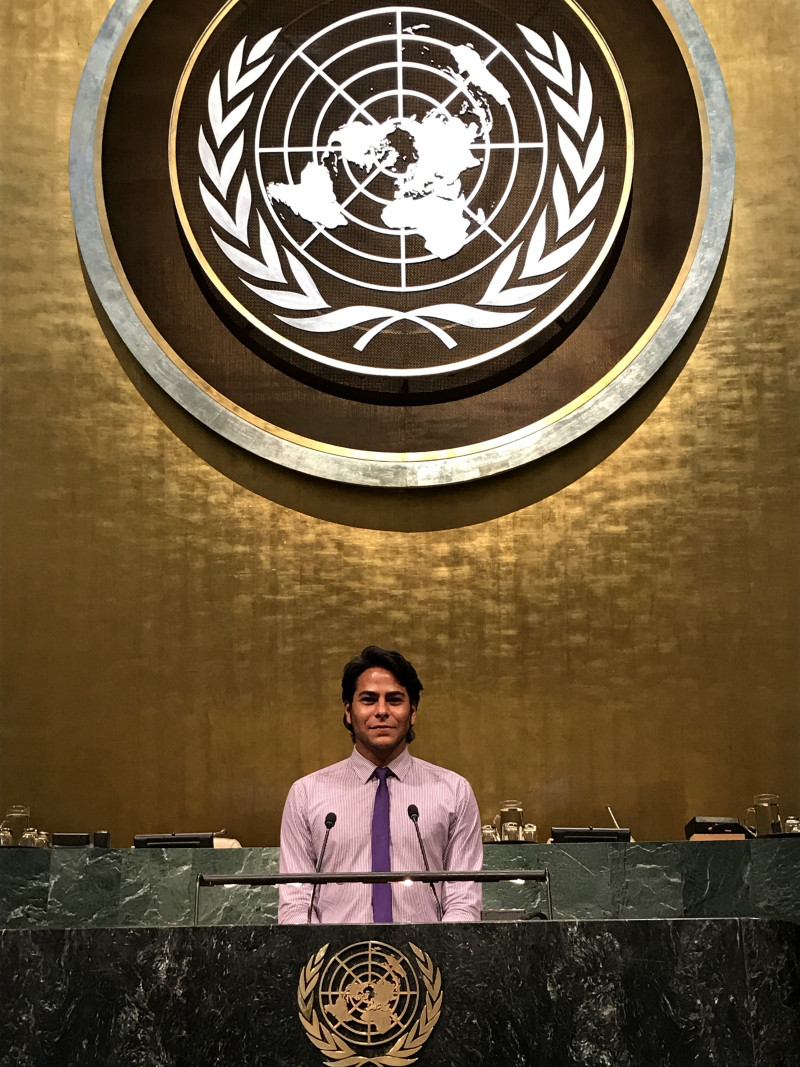 How did you decide to leave Venezuela? Or why did you leave?
I'm a co-founder of a political party back home. One of the main parties that is challenging the regime and the dictatorship in Venezuela. Also, the party that holds the interim government, challenging their Maduro's regime right now at the moment as we speak. So, they put in jail many people from my party, including our leader Leopoldo, and many lower ranks within the party is sort of speaking, and I was at the National Board of the Youth of the party. So, once I went back to Venezuela after being traveling, all the party people started telling me to leave the country and the regime put people following me on the streets and in the country and that's why I decided after many of our colleagues were imprisoned that it wasn't safe for me anymore to stay back home.
Would you consider then that you were sort of forced out of Venezuela in this sense?
Yeah, yeah absolutely was never my choice, it's being eight years after that day. And ironically, my graduation at Columbia, the commencement day happened the same 8th anniversary day that I was last in Venezuela, and last time I saw my family.
Your migration route. What did it look like? Did you come straight to New York or were you passing through some countries?
Yeah, actually I was one of the blessed ones that was capable to travel and like as I call it or people call it like "the airplane migration" or "immigration or refugees on the air". I had a visa to come to the US as a tourist. One thing here is when talking to my lawyers and with people from my party… We all came to the States. Most of us came to Miami or the other very few went to Madrid and Spain. So, it was like somehow the decision of sticking together… […] We were capable to make it to here. Once I started here, I guess as everybody else was hard, I lived in Miami first working construction, working hospitality, cleaning, renting furniture for parties and stuff. Like on the side gigs, until you were able to get the work permit. And once I had that, then things started like changing somehow. […]
Yeah, so that's when I decided after many Venezuelans started coming more and more and more to the US and Florida is the first state with the biggest concentration of Venezuelans just followed by Texas and New York as the third recipient state. So, for me was like if there is a place that I can add more value organizing my community, which I did in Miami, Western and Doral, many other cities that we organized the structure of the party and somehow community movements to organize the diaspora. In Miami was more of a fight for who was the boss of something or who was leading something given the Latinhood or the rank of many Venezuelans coming to the US that used to be something back home, either a congressman or congresswoman, a mayor or a governor, but in here they just had to start from zero as everybody else. Leading with that ego made me realize that I needed to move to New York and come from a place that no matter who you were, you just needed to show who you are right now.
Would you have stayed in in Miami if you had a choice or?
Not really, not really. I mean, I always go back. People in New York always ask me like: Why did you leave Miami and I'm like: There is a reason, trust me. I love seasons, I love my people, but it's like when you visiting family…
What did your family say about your leaving Venezuela or what do they feel?
I guess the hardest part of this question is that it wasn't entirely my decision. It was my mom's and my grandpa's and it was more of them like: We'd rather not see you ever again than see you in jail for something that you not have committed. My grandpa was imprisoned by the last dictatorship, we had 50 years ago… […] And he was one of those that always planted that dream of reconstructing, rebuilding the country, and working in politics and fighting for our rights and our freedom…
Eric is a political refugee, co-founder of a political party from Venezuela and activist originally from Caracas, born in 1988. He was forced to leave his country in 2014 because of the regime and the dictatorship in Venezuela. In 2020 he has recieved a scholarship  from Columbia University. Currently he is living in New York and is actively supporting the refugees and migrants from Venezuela. Eric is seen as the consul of Venezuela in New York.
Interview conducted by the We Refugees Archive team with Eric in the summer of 2022. The interview was edited for length and clarity.