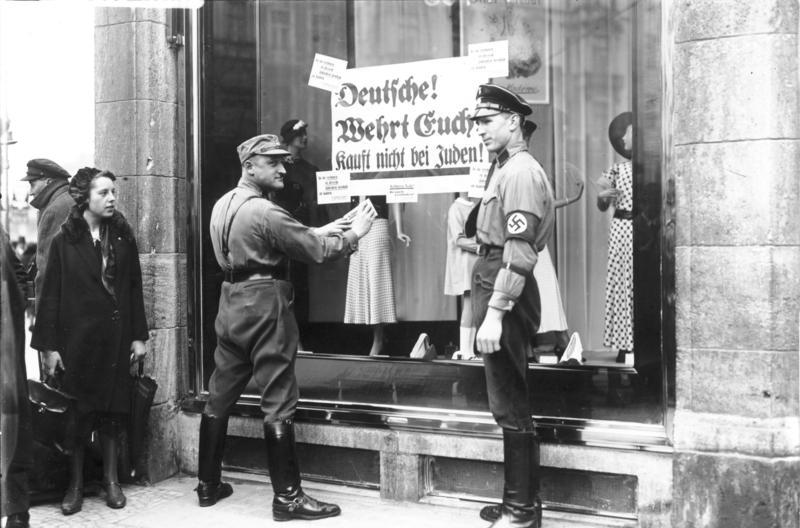 6. Februar 1938
Nun mußten auch wir den Paß abliefern. "Juden dürfen keinen Paß mehr haben." Man hat wohl Angst, wir könnten über die Grenze gehen! Aber das will man doch! Merkwürdige Logik. Jedenfalls weiß ich, nun sind wir erst recht gefangen, nun kann man erst recht mit uns machen, was man will und gerade zum Frühjahr wollten so viele Eltern ihre Kinder besuchen in Palästina. […]
5. August 1938
Wir saßen bei Tisch mit unseren Gästen, da kam ein Telefonanruf. Ich gehe selbst an den Apparat. Kollege S., er frägt mich: "Haben Sie eben Radio gehört?" "Nein", sage ich, "was ist denn wieder los?" Der sonst so ruhige Kollege, er sagt mit zitternder, erregter Stimme: "Was Sie immer prophezeit haben, sie nehmen uns die Approbation, wir dürfen nicht mehr praktizieren – eben hat man's am Radio durchgesagt". […]
18. September 1938
Einige Ärzte dürfen als "Judenbehandler" weiter praktizieren, auch mein Mann soll dieser "Ehre" teilhaftig werden! Ein Schild, "Nur zur Behandlung von Juden berechtigt", ein blaues Schild mit Davidstern und gelbem Fleck-nein, ich danke dafür.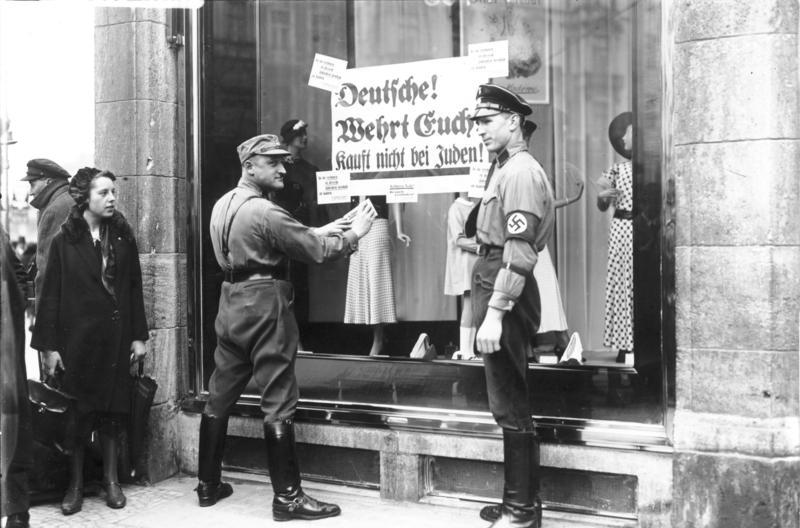 February 6, 1938
Now we too had to hand over the passport. "Jews are no longer allowed to have passports." They must be afraid that we might cross the border! But that's what they want! Strange logic. In any case, I know that now we are trapped, now they can do whatever they want with us, and just at springtime so many parents wanted to visit their children in Palestine. […]
August 5, 1938
We were sitting at the table with our guests when a phone call came. I answer the phone myself. Colleague S., he asks me, "Did you just listen to the radio?" "No," I say, "what's going on again?" The otherwise so calm colleague, he says in a trembling voice: "What you have always prophesied, they will take away our license to practice, we are no longer allowed to practice – they just announced it on the radio". […]
18 September 1938
Some doctors are allowed to continue practicing as "Judenbehandler"- therapist for Jews, also my husband shall be part of this "honor"! A sign, "Only authorized to treat Jews", a blue sign with Star of David and yellow spot-No,I thank for it.
Hertha Nathorff, née Einstein (1895-1993) was a German pediatrician, psychotherapist and social worker, she published several works, including a book of poems. She was born in Laupheim (Baden-Württemberg) into a Jewish family. She was related to the physicist Albert Einstein, the musicologist and music critic Alfred Einstein, and the film producer Carl Laemmle. Nathorff attended high school in Ulm and, interrupted by a temporary job as a nurse during World War I, studied medicine in Munich, Heidelberg, Freiburg (Breisgau) and Berlin from 1914. After receiving her doctorate degree in Heidelberg (1920) and years as an assistant in Freiburg, she was a senior physician at the Red Cross Women's and Children's Home in Berlin-Lichtenberg from 1923-28, then worked in private practice and simultaneously at the Charlottenburg Hospital as head of the family and marriage counseling center. In the course of National Socialist racial policies, she lost her medical license in the fall of 1938, while her husband, formerly a senior hospital doctor in Berlin-Moabit, was granted a license for exclusively Jewish patients. During this period she worked as his receptionist.
Threatened with death in Nazi Germany, she organized emigration with the help of American relatives from November 1938, sending her 14-year-old son ahead to England on a Kindertransport. In April 1939 the couple managed to leave the country for London, and in early 1940 they continued their journey to New York. In New York she worked as a nurse, maid, bar pianist and kitchen help to support the family. She remained a physician's assistant in her husband's practice, which opened in 1942 – she did not have the time to get her degree recognized.
Hertha Nathorff took a very active part in the social life of the German-speaking exile community: she organized courses for emigrants in nursing and infant care and cultural events, was the founder of the Open House for the elderly, chairwoman of the women's group, and an honorary member of the presidium of the New World Club. In the excerpts from the diary of Hertha Nathorff Berlin-New York Aufzeichnungen 1933 bis 1945, which we show in our archive, the author deals with her initial problems, disappointments and mortifications in the New World. She reports on the everyday life of emigrants, on the struggle for existence, on poverty and mental destruction. Despite her longing for the places of her childhood and youth, she never visited Germany again. She never really settled in America. The homesickness remained constant.
Excerpt from the diary of Hertha Nathorff, edited and introduced by Wolfgang Benz (1987): Das Tagebuch der Hertha Nathorff. Berlin – New York. Aufzeichnungen 1933 bis 1945. Schriftenreihe der Vierteljahrshefte für Zeitgeschichte, Band 54. R. Oldenbourg Verlag München, pp. 112, 114.
Translation from German to English © Minor Kontor / We Refugees Archive.