[…] Das war also das große Ereignis, das Leben fing da erst richtig an, also, hier in New York. Ich war so froh, aus Deutschland weg zu sein. Ich war so selig, ich kann Ihnen gar nicht sagen, was für ein Alptraum auf einem lag in Deutschland. Und was man da mit sich geschleppt hat an Grausamkeiten und Ängsten. 1952, New York war eine herrliche Stadt. Es war wunderbar. Man war noch jung, man hatte noch so allerhand vor sich, man hoffte noch, und ich fing hier sofort zu arbeiten. Ich hatte nicht einen einzigen Pfenning, als ich hier rüber kam. Ich arbeitete, ich fing erstmal an zu arbeiten bei einer Schweizer Uhrenfirma. Und da mein Englisch sehr, sehr schlecht war, fing ich in der Fabrik an.
[…] Es ging mir etwa so wie dem Reiter über den Bodensee. Ich war so froh, so erleichtert. Ich genoss jeden Tag, ich ging zu Ausstellungen mit meinem Sohn, wir liefen jeden Sonnabend, Sonntag überall hin und sahen uns alles an. Man machte neue Freunde, man wusste, dass die einen gern hatten, man vertraute ihnen. Die Menschen hier sind sehr offen, tolerant und liebenswürdig. Und dann fing es plötzlich an. Ich war schon Amerikanerin, amerikanische Staatsbürger. Und plötzlich kamen entsetzliche Ängste. Ich litt unter fürchterlichen Alpträumen. Ich traute mich überhaupt nicht mehr zu schlaffen nachts. Jede Nacht kamen die Nazis, jede Nacht wurde ich verfolgt, jede Nacht ging alles wieder los. Ich dachte, ich würde wahnsinnig, ich könnte es nicht mehr aushalten und würde aus dem Fenster springen. Und da kam ich auf die Idee: jetzt fährst du nach Deutschland, zurück. Ganz egal, wie dir zumute ist. Du gehst hin- und du kommst wieder raus. Du merkst, dass du rauskommst, dass dir nichts passiert. Das hab ich gemacht. Ich hab Geld zusammengespart und bin nach Deutschland, nur zu diesem Zweck. Und es hat geholfen. Ich hab nie wieder Alpträume gehabt, nie wieder solche Ängste, solche irrationalen Ängste.
[…]
Hier in New York, was sich hier in New York an Elend abgespielt hat unter den Überlebenden der Konzentrationslager, davon macht man sich gar keinen Begriff. Die sind heute alle tot, sie haben alle kein langes Leben mehr gehabt. Aber das Elend, das sich hier abgespielt hat, diese Krankheiten, dieses Dahingekreuche, diese Hilfsorganisationen, die wir hier hatten, um diese Menschen noch am Leben zu erhalten, um ihnen zu helfen, um vielleicht einen Fenster zu bekommen, damit sie irgendeine Ablenkung hatten. Dieses ganze Elend, das sich hier abspielte und dann diese Gleichgültigkeit, dieser infantile Materialismus. Ich bin richtig hysterisch geworden. Ich hab losgeheult, ich hätte, ich weiß nicht, was ich hätte machen können. Es war entsetzlich, ein solch grausamer Widerspruch, dass die Mörder ein solches Leben leben konnten, während hier in New York die Menschen in solchem Elend gelitten haben, in solch grauenhafter Weise zugrunde gingen. Das anzusehen, das mitzuerleben, das war wirklich eines der fürchterlichsten Erlebnisse.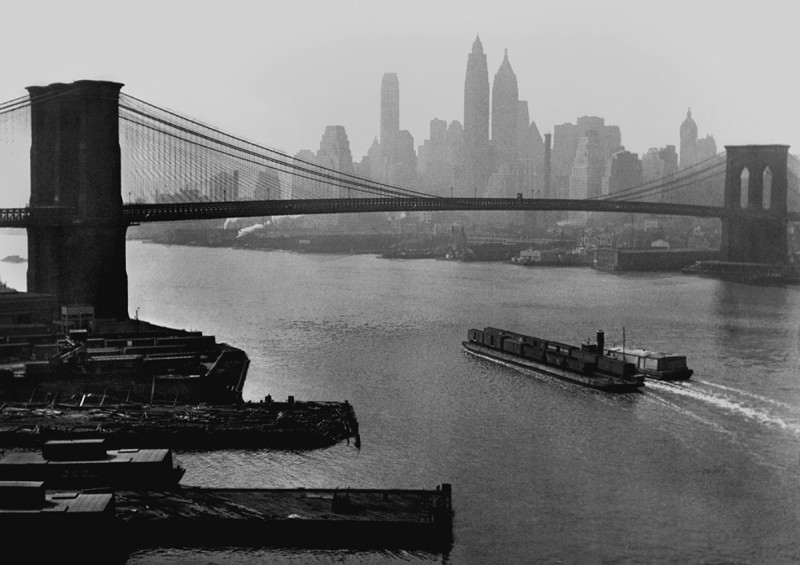 […] So that was the big event, life really started here in New York. I was so happy to be out of Germany. I was so blissful, I can't tell you what a nightmare it was to be in Germany. And what cruelties and fears you carried with you. In 1952, New York was a wonderful city. It was wonderful. You were still young, you still had all kinds of things ahead of you, you still hoped, and I started working here right away. I didn't have a penny when I came over here. I worked, I first started working for a Swiss watch company. And since my English was very, very bad, I started in the factory.
[…] I felt about the same as the rider across Lake Constance. I was so happy, so relieved. I enjoyed every day, I went to exhibitions with my son, we walked everywhere every Saturday, Sunday and looked at everything. You made new friends, you knew they liked you, you trusted them. People here are very open, tolerant and kind. And then suddenly it started. I was already an American, an American citizen. And suddenly came terrible fears. I suffered from terrible nightmares. I didn't dare to sleep at all at night. Every night the Nazis came, every night I was persecuted, every night it all started again. I thought I was going mad, I couldn't stand it anymore and I would jump out of the window. And then I had the idea: now you go back to Germany. No matter how you feel. You go there and you come out again. You realize that you'll get out, that nothing will happen to you. That's what I did. I saved up money and went to Germany just for that purpose. And it helped. I never had nightmares again, never had such fears, such irrational fears.
[…]
Here in New York, the misery that took place among the survivors of the concentration camps is not even imagined. They are all dead today, they have not had a long life. But the misery that took place here, these diseases, this scurrying around, these aid organizations that we had here to keep these people alive, to help them, to maybe get a window, so that they had some distraction. All this misery that was going on and then this indifference, this infantile materialism. I became really hysterical. I started crying, I could have, I don't know what I could have done. It was horrible, such a cruel contradiction, that the murderers could live such a life, while here in New York people suffered in such misery, perished in such a horrible way. To watch that, to witness that, that was really one of the most horrible experiences.
Helga Hagen was born in 1918 in Berlin-Nikolassee. The father, a private banker, comes from the bourgeois, completely assimilated Jewish upper class of the Wilhelmine era. The sixteen-year-old becomes aware that she is of Jewish origin in the anti-Semitic pogrom atmosphere after the Nazis take power. In 1934 she has to leave the Gymnasium and is sent by her grandparents to a school in Belgium. In 1937 she returns to a pariah existence, caring for Jewish old people. Her father, convicted of "racial defilement," is murdered in 1942. In 1943, she gave birth to her son in a small town in the Black Forest; she was able to escape the threat of arrest and deportation and lived illegally in Hamburg until the end of the war. In 1952 she emigrates to the United States and lives in Manhattan, New York.
Thomas Hartwig- author of the book "Verheißene Stadt: Deutsch-jüdische Emigranten in New York. Gespräche, Eindrücke und Bilder" met with Helga Hagen at West 86th Street, near Central Park for the interview. This is how he described her: "I am impressed by the openness, yes- radicalism, with which she narrates. Her biography, apart from the social exclusivity of her upper-class childhood, is in many respects typical of an entire generation of German Jews."
Thomas Hartwig, Achim Roscher, 1986: Verheißene Stadt: Deutsch-jüdische Emigranten in New York. Gespräche, Eindrücke und Bilder. Berlin: Das Arsenal. p.25-26.
Translation from German to English © Minor Kontor / We Refugees Archive.