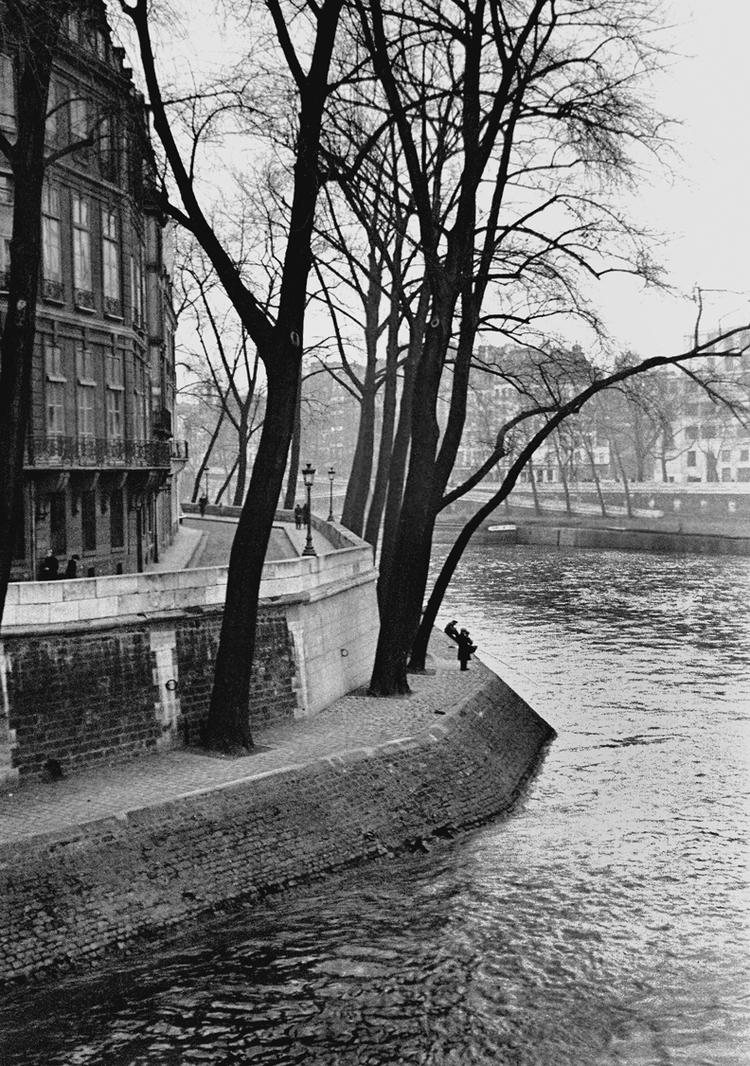 Premier avril. Je suis devant la gare de l'Est, sous la grande horloge. Quelque chose serre ma gorge d'où le sanglot cherche à fuir. Poisson d'Avril ? C'est ça Paris ? Sous une pluie fine, la grande Place parait sale, les murs des maisons sont noirâtres, sordides. Et la femme de pierre, là-haut, dans son fauteuil de pierre, regarde avec ses yeux de pierre ce paysage. Comment une femme de pierre peut être sensible å mon désenchantement ? Ou peut-être elle est déjà habituée à ce spectacle ? J'attendais de Paris du soleil, de la lumière, des couleurs somptueuses. On m'a trompé ! Qui ? Je suis venu au rendez-vous avec la femme désirée et elle n'est pas à l'endroit convenu. A travers la tristesse qui s'agrippe dans mes yeux, je regarde les longs tramways verts qui roulent en cahotant, faisant un bruit de ferraille sur le boulevard qui court en face de la gare. Je retiens avec angoisse mes illusions pour qu'elles ne s'évanouissent pas… demain sera autrement, demain il y aura du soleil et ils vont apparaitre les palais fabuleux et les fées. Maintenant, je suis fatigué du long voyage.
______________________________
Dans le train qui roulait vers Vienne, j'avais fait la connaissance d'un homme qui s'était appelé Loffler… comme moi. Il transportait en contrebande je ne sais quoi. Cela ne m'intéressait pas. Mais ce qui m'intéressait, que la police du train ne vienne pas dans notre compartiment car je me transportais moi-même en contrebande avec un faux passeport. Je fuyais la police fasciste de Horthy. Loffler – l'autre – me disait que son jeune frère était à Paris. C'est à lui que je me suis adressé en quittant la gare de l'Est.
April 1st. I'm in front of the Gare de l'Est train station, under the big clock. Something is squeezing my throat from which the sob is trying to escape. April Fools' Day? Is that Paris? Under a light rain, the large square looks dirty, the walls of the houses are blackish, sordid. And the stone woman, up there, in her stone armchair, looks at this landscape with her stone eyes. How can a woman of stone be sensitive to my disenchantment? Or perhaps she is already used to this spectacle? I was expecting sun, light, splendid colors from Paris. I was betrayed! Who has been betrayed? I came to the rendezvous with the desired woman and she is not at the agreed place. Through the sadness that clings to my eyes, I look at the long green streetcars that roll jolt, making a scrap noise on the boulevard in front of the station. I anxiously hold back my illusions so that they don't vanish… tomorrow will be different, tomorrow there will be sunshine and fabulous palaces and fairies will appear. Now I am tired of the long journey.
______________________________
[Undated] On the train to Vienna, I had met a man named Löffler… like me. He was smuggling I don't know what. I wasn't interested. But what interested me was that the train police didn't come to our compartment because I was smuggling myself with a false passport. I was running away from Horthy's fascist police. Löffler – the other one – told me that his younger brother was in Paris. It was to him that I turned when I left the Gare de l'Est train station.
The writer and journalist Paul-Adolphe Löffler (1901-1979) fled the fascist regime in Hungary to Paris in 1924. Löffler had joined the communist youth in 1918. After the overthrow of Béla Kun's government, he lived for a short time in the uncertainty of a denunciation to Miklós Horthy's police in Budapest. Löffler had had to leave his wife Ilonka and his son Michel behind in Budapest during his hasty escape – a neighbor had denounced him because of his affiliation with the communist circles; they moved to live with him in the French capital shortly afterwards. With low-paid, often odd jobs in a wide variety of industries, they made their way in Paris, which was marked by the uncertainties of the interwar period and the political-economic effects of the economic crisis.
In his diary Journal de Paris d'un exilé (Parisian Diary of a Expatriate), Paul-Adolphe Löffler describes the daily hardships and worries, the recurring hopeless phases of unemployment, growing xenophobia and antisemitism, and the political and social exclusion of the many thousands of foreign workers in France. His membership in various organizations and writer's circles is just as present. In 1934 he became a member of the French Communist Party and held various offices for the Hungarian diaspora movement "Mouvement du 1er septembre" (later "Mouvement pour la Paix et la Liberté"). Between 1930 and 1935, his life was marked by long phases of unemployment and the associated misery and depression. In 1935 he found a long-term job as a draftsman in Paris, which he continued to do until his retirement.
In 1973 Löffler published his diary, which is presumably based on Hungarian and French fragments from the period between 1924 and 1939 as well as memories added later, and was edited before publication. The diary ends in 1939, the year in which Löffler joined the Resistance against the German occupation of France, where he distributed the underground press and organized secret meetings in the Seine-et-Marne region. Paris as the "City of Light" and of the Enlightenment appears in Löffler's diary as a dazzling place of longing, but it regularly disappoints him. As a refugee with a forged passport, he arrives by train at the Paris East Station, where the city immediately disenthralled him: it seems less beautiful and sunny than expected, but he hopes that the next day will be better.
Löffler, Paul-Adolphe, 1974: Journal de Paris d'un exilé (1924-1939), p. 1.
Photo published with kind permission by Peter Stein © Fred Stein Archiv
Translation by Minor Kontor