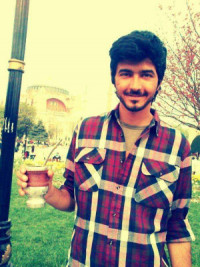 In the work, I was working tourism sector, so my bosses they are Kurdish as well. So they didn't speak that much Kurdish, but they were speaking a little bit. So I was speaking Kurdish and English to them because they were working in tourism sector. I found out that only people who work in tourism sector, or those who study in private colleges can speak English. Except these people nobody can speak English in Turkey. […]
There weren't any teaching facilities that I benefited from. I just use my own experience to learn from people that I work with them. They try to talk with me in Turkish and I tried to talk as well. I'm a very fast learner for languages, so it took me almost one year to like speak very good Turkish. And with that, I was learning Spanish as well. I loved the time of 2014 and 2015, it was amazing two years.
[…] At that time, Turkey was a better place. It was more relaxed. Then the currency wasn't so low as now, economic situation was better for all the people. So the people were more relaxed, they didn't care about the migrants. And my people was having a good life here in Turkey. Especially me, I was working in tourism sector. I was gaining a good amount of money, like a great amount as a small worker there, that my bosses were gaining a tremendous amount of money. I was gaining money and I had a good life. I was meeting a lot of people. I loved working in tourism sector because it was meeting like; I was talking to 30, 40 persons a day, not only about work or when I was selling them goods, but I was also asking them something about their life, their experiences. I learnt that the world is not just Syria, Aleppo or Turkey; people have different mindsets, different cultures, those were enlightening for me, and it shaped my personality a lot.
Paydar H. is a Kurd from Aleppo in Syria. After the bombing of the city in 2013, he fled to Turkey at the age of 24 with his brother via Afrin in Syria and reached Istanbul on 15 May 2013. After finding a flat in Istanbul, his parents and sister joined him. He married in 2015, has two children and works for an international organisation as an interpreter.
In this interview passage, he talks about how, while working in th tourism sector, he built a good, economically secure life for himself,  learned Turkish and Spanish, and met many new people.
This interview was conducted by Elif Yenigun for the We Refugees Archive in April 2021. It took place online, in English.