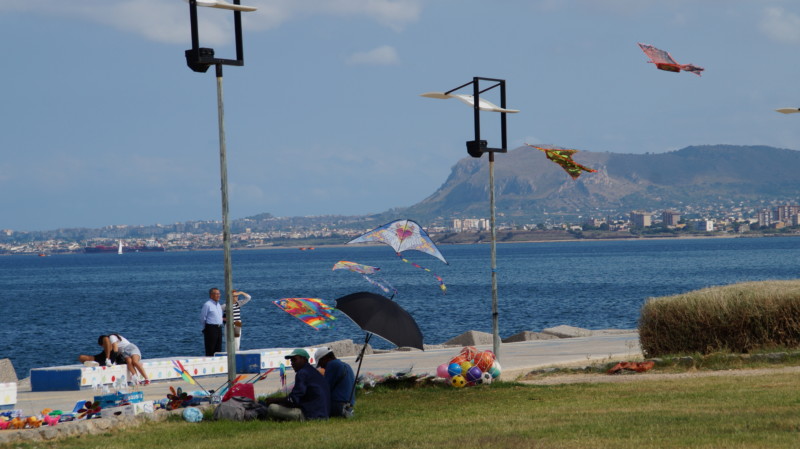 Most weekday afternoons on the seafront in La Kalsa, a historic district of Palermo near the city's harbor, young African migrants gather in groups to play football. Around them, Sicilians go about their daily lives. A mother pushes a pram through the crowds; two women practice yoga on a floral rug; children fly kites high in the air; stray dogs roam in the distance; and young Italians queue up to buy cold granitas in the sweltering June sun. Along the promenade in the evenings, Nigerian women trafficked into prostitution sell their bodies for twenty-five euros, while up the road, Chinese massage parlors charge a little more. Nearby, a few tourists sit on tables outside restaurants tucking into clam pasta.
It is here that I meet Taka, a seventeen-year-old from Gambia. He has a slender, tall frame, his whole being radiant with a huge smile that reveals a set of perfect teeth. When he landed in Palermo last year, the Italian coastguard asked him, "What is your age?" Because he was only seventeen, he was put into a reception center for minors a thirty-minute walk from the city center. Those first few days, he said, he walked the streets with a big smile on his face. The police would ask him why he was smiling. He told them, "Because I am happy. In Africa, to be in Europe is a big thing."
Looking at his delicate frame, I am reminded of my cousin Abdi, who made his own journey across the Mediterranean Sea at the age of fourteen. He left Hargeisa, in Somaliland, one day without telling my Aunt Anab where he was going. When I last saw my aunt, she told me that, "He came to me one morning and asked me for a dollar. I told him I didn't have any money, and then he left." My aunt cried for her son but he turned up some days later in Ethiopia, saying he needed to pay smugglers to get him to Europe. Abdi is now living in Austria, but he may not be able to stay once he turns eighteen. As I sit here with Taka, I wonder if he thought much about what happens to young migrants like him after they arrive in Europe. A young Gambian I recently met in a small town in Basilicata – a region between Puglia and Calabria – said to me, "The journey is like taking a penalty shot: Either you get the ball in, or you don't." Luckily for Taka and my cousin, they got the ball in. Yet their lives are currently in limbo.
For me, Europe is a strange place to be. I work as a reporter in places like Sicily, but I also have family members who have made these dangerous journeys across the Mediterranean, a sea that has taken so many lives. Last year it swallowed 5,000 souls.
Most of these young men playing football on this field are supported by local charity in Palermo, which provides them with a kit, a ball and a referee. They gather in this green field between a road and the sea. Most are from West Africa – Gambians, Nigerians and Senegalese, among others. For several weeks last summer, I was in Palermo researching the experiences of recently arrived African migrants. I got to know several of these young men. Their daily sessions of football and dreaming of becoming the next African soccer star in Europe gave them a measure of solace in an otherwise bleak struggle faced by young African migrants in Sicily. What is often a life in limbo here is marked by cycles of isolation, poverty and boredom.
When I met Taka he showed little fear, and mostly enthusiasm. His friend Landi, on the other hand, was more crafty and wary of my foreignness. Strangely, these young teens frequently send me WhatsApp messages, things like, "I miss you dear," or "How are you my dear?" I tried to explain to them that using "dear" like this sounds strange in English. Somehow, my suggestions have been lost in translation. On my birthday last year, Taka sent me a note he recorded in which he called me "dear."
Sometimes I don't hear from Taka for a long time. Then suddenly a WhatsApp message will arrive: "Hello dear I have been thinking about you, I miss you." He tells me what he has been up to. He's still in Sicily waiting for what comes next, but his friend Landi has since resettled in Germany. As yet, Taka has not been signed by a football team like he dreamed of, but he seems happy nonetheless. Like so many young African migrants I know, Taka and his friends love posting selfies and group photos of themselves online. I sometimes follow the comments made at the bottom of their posts and see these young men, most of whom still appear to be back in their countries, commenting, "You look beautiful in Europe."
Back to La Kalsa. The sun is setting behind the rolling hills that circle the city; well-healed Italians sit on the terraces of the restaurants having an aperitif while joggers run along the promenade. The football session is coming to an end, and Taka is clearing up for the day. His yellow t-shirt is covered in mud. He has the half-hour walk ahead of him to the reception center for young migrants, where he still resides. There, he sleeps in a communal block and survives on ten euros a week. Sicilians don't speak English, and they eat pasta. Taka complains, "I don't like the taste. I hate it."
For the most part, though, Taka is a happy teen content to walk in the sunshine and wish away the dark corners of his memory. Yet sometimes, those memories of nights spent living in Tripoli haunt him. He tells me that, "Libya is a bad place. You have to stick together in Tripoli or you get kidnapped." Sometimes these young, kidnapped men get sold into slavery. I feel for Taka – he's experienced horrendous levels of fear and insecurity during his young life. His stories of being in Libya during its civil war remind me of my own childhood in Somalia. Those days were full of fear and adrenalin. Like Taka, his friends Papi and Kadim are both seventeen years old and from Gambia. They share similar stories with me. When they arrived in Palermo, their happiness quickly gave way to the realization of how hard life is in Sicily. Kadim, wearing a cap, a gold chain and sportswear, tells me that life in Sicily is really not much that better than in Africa. Indeed, locals here frequently joke that Sicily is a country in Africa.
Jokes aside. Taka has no time for regret. And yet, as more young migrants like Taka arrive on the island, the situation becomes increasingly tense. His friends on Facebook still comment that, "You look nice dear." And it's true – he's looking good in Europe. Taka tells me that his friends had warned him not to make the journey. They told him the dangers were all too real. "I thought they were lying to me," he says. "Now I know what they meant."
The journalist Ismail Einashe describes the life of newly arrived young migrants in Palermo: a life between hope, poverty, isolation and loneliness. Between soccer-playing youths, busy Palermitans and holiday-enjoying tourists on the promenade of Palermo, La Kalsa, Einashe draws a picture of the refuge area Sicily, where people from all over the world come together and live side by side, a picture that is romantic on the surface and tension-filled underneath.
Among others, he meets Taka from Gambia, who is one of the many under-age refugees who are on the flight without the company of their adult family members. In 2018, according to Unicef, 12,700 children came to Europe unaccompanied. 11Unicef: Latest Statistics and Graphics on Refugee and Migrant Children, in: Unicef, 2019, https://www.unicef.org/eca/emergencies/latest-statistics-and-graphics-refugee-and-migrant-children (09.09.2019). In the We Refugees Archive, other under-age refugees such as Fatima D. also talk about the hopes with which they came to Europe and the difficulties and uncertainties they face.
Also the dangerous escape route through the Sahel zone, 22see Bachmann, Anna-Theresa: Eurasia's border in the Sahel zone, in: Rosa Luxemburg Foundation, 2019, https://www.rosalux.de/publikation/id/40043/europas-grenze-in-der-sahelzone/ (24.01.2020). North Africa (especially Libya) and across the Mediterranean is described as a traumatic experience for the majority of the refugees who arrived. Fatima D., Jehan Bseiso and others also address this experience in their interviews and poems. They also always bear witness to those who failed to escape, those who, in the words of the young people interviewed by Einashe, "did not convert the penalty" and those who died while fleeing. The deaths of refugees in the Mediterranean and elsewhere have been documented by UNITED for International Action since 1993, but in many cases the fate of those who die while fleeing remains unknown.
Footnotes

1

Unicef: Latest Statistics and Graphics on Refugee and Migrant Children, in: Unicef, 2019, https://www.unicef.org/eca/emergencies/latest-statistics-and-graphics-refugee-and-migrant-children (09.09.2019).

2

see Bachmann, Anna-Theresa: Eurasia's border in the Sahel zone, in: Rosa Luxemburg Foundation, 2019, https://www.rosalux.de/publikation/id/40043/europas-grenze-in-der-sahelzone/ (24.01.2020).
Einashe, Ismail, 2019: Postcard from Sicily, in: Bhakti Shringarpure (ed. et al.): Mediterranean. Migrant Crossings. Storrs, CT: Warscapes Magazine, pp. 12-13.
Reposted from Mediterranean. Migrant Crossings with the kind permission of Bhakti Shringarpure, founder and editor in chief of Warscapes.
For a review of Mediterranean. Migrant Crossing see here.