Displaced Persons (DPs) in Berlin
Immediately after the end of the war, the Allied armies found about seven million displaced persons in what later became the Western occupation zones. This group was comprised of liberated concentration camp prisoners and forced laborers, prisoners of war and former contract workers. German refugees and expellees from Central and Eastern Europe were not granted DP status. In the Soviet occupation zone, there was no DP status as a matter of principle.
"Hostile glances meet. What do you want from them, the Germans? From the gods, the soul-guilty? […] They took us out of the concentration camps and brought us back to a camp. Surely one cannot release people who have been locked up for years all at once."
Undzer Lebn, August 25, 1946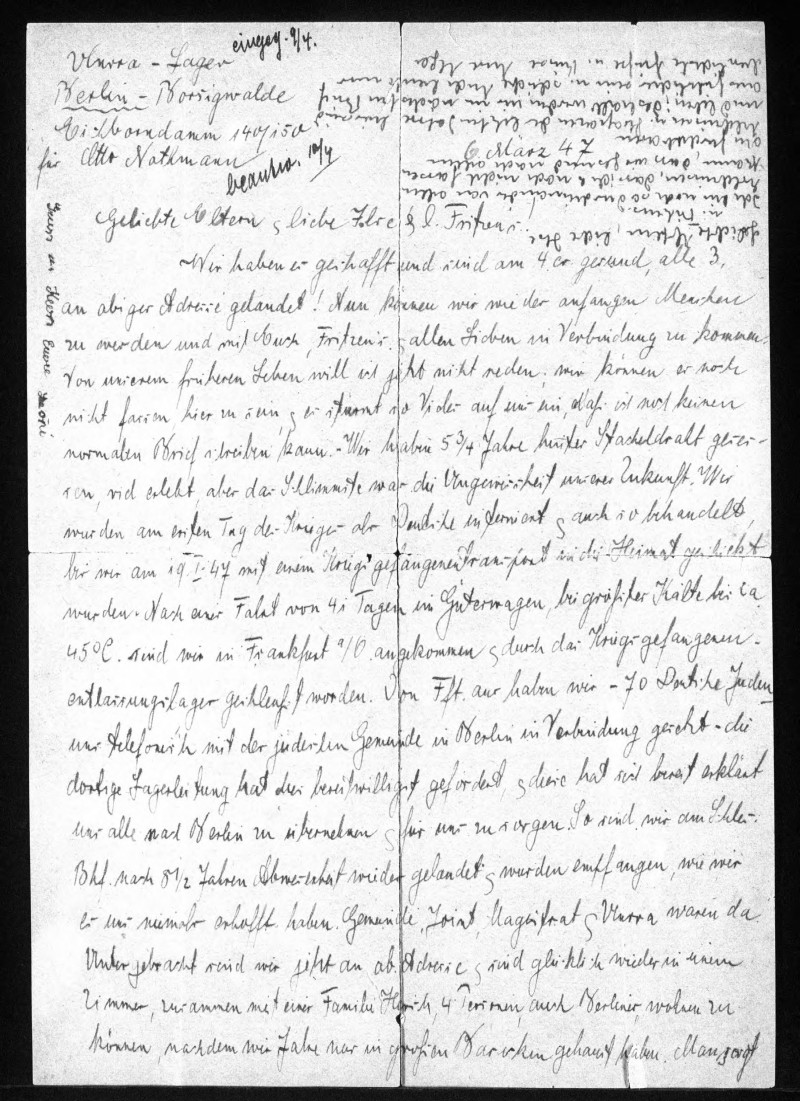 Initially, Jewish DPs were a relatively small group. After liberation, they returned to their hometowns in search of family members. There they found that nothing and no one was left from their prewar lives. Jews who had survived in the Soviet Union also initially returned to Poland. New antisemitic attacks and pogroms, as in Kielce, Poland, in 1946, forced many Polish Jews to flee in the following year.
The underground movement Brichah ("Escape") helped bring Jewish survivors from Poland abroad. It trafficked about 250,000 people via various routes to the Western occupation zones in Germany and Austria as well as Italy.
One route led via Szczecin (Stettin) to Berlin. Many of the refugees on this route traveled in transports disguised as German expellees.
"I am still so confused by all the experiences that I cannot yet believe that we are healthy and alive here after all the terrible experiences and hardships of the last few years […]."
Elga Nothmann, March 6, 1947