Home in a dormitory
Dormitory – non-profit temporary accommodation. Halls of residence offer us different
living conditions, different roommates with whom we are supposed to share the space.
One thing applies to all of them: our place in a hall of residence is always temporary.
Empty rooms in a hall of residence have no soul, and our objects fill them with life.
These objects serve as carriers of memories, traditions and energy,
whose meaning exists only for us, their owners.
In this project, İsa Can Artar and Daryna Axxi Degtiarova visit 2 student dormitories and 2 refugee dormitories and ask their roommates which objects have this meaning.
Axxi, 21 – born in Kharkiv, Ukraine. In Berlin since March 2022
"When I arrived, I immediately started preparing for my studies: doing bureaucratic tasks 24/7 and learning bureaucratic tasks and learning German helped me to calm down. I feel good in Berlin, sometimes even too good. I currently live in a student dormitory. I feel as if I am striving for happiness, but feel guilty for every single pleasure. I am currently studying at the Free University of Berlin, working on cultural projects at the 'Cultural Workers Studio' and pursuing my music career."
Elephant (or squirrel?)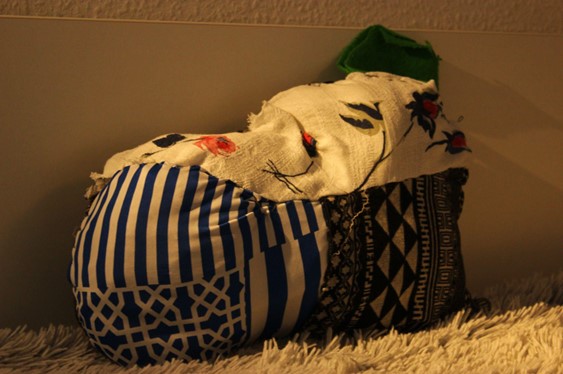 "This is a handmade gift for my 21st birthday from a friend of mine Richard Petiffer. Richard is from Australia, he actively supports cultural workers from Ukraine and is part of our team in the 'Cultural Workers Studio'. We're still arguing about whether that's an elephant or a squirrel."
Kryzhma
"Kryzhma is a towel on which children are baptized in the Orthodox Church. My mother said to me: This is your protection. You should always take it with you when you move house. Of course, I never did that, but she packed it for me anyway."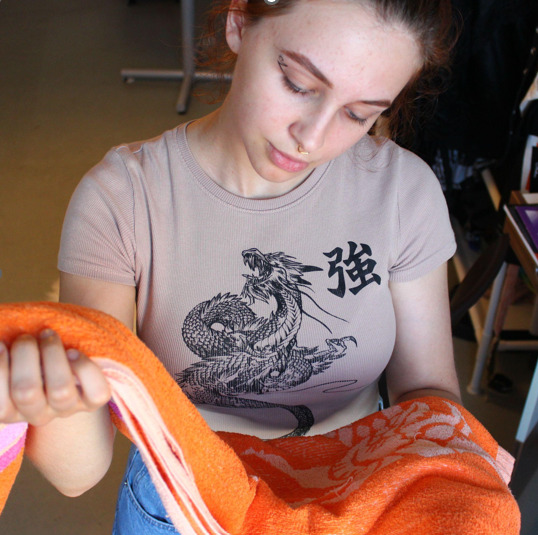 Roots
"Since my escape, I keep buying new plants. I don't like it when someone brings me picked flowers; I prefer to take care of their lives rather than watch them die."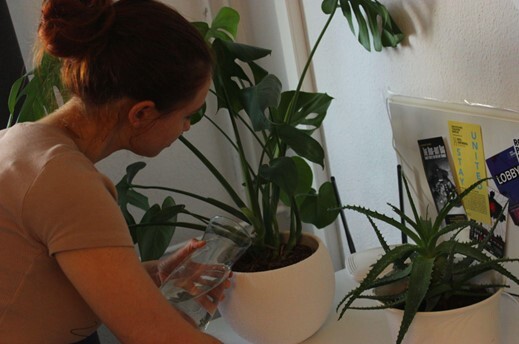 Ring for Denis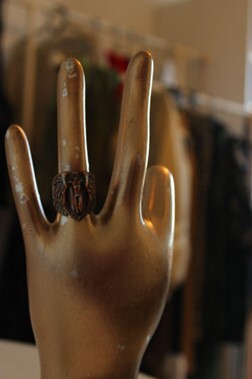 "Denis' birthday is on February 23, and since he went to Isium on that day, he wanted to celebrate his birthday on February 25. I bought this ring for the occasion. On February 24, however, our lives changed forever. Denis is doing well. I keep the ring as a reminder of all the plans that were interrupted that day."
Mustafa, 18 – born in Şanlıurfa, Turkey. In Berlin since November 2022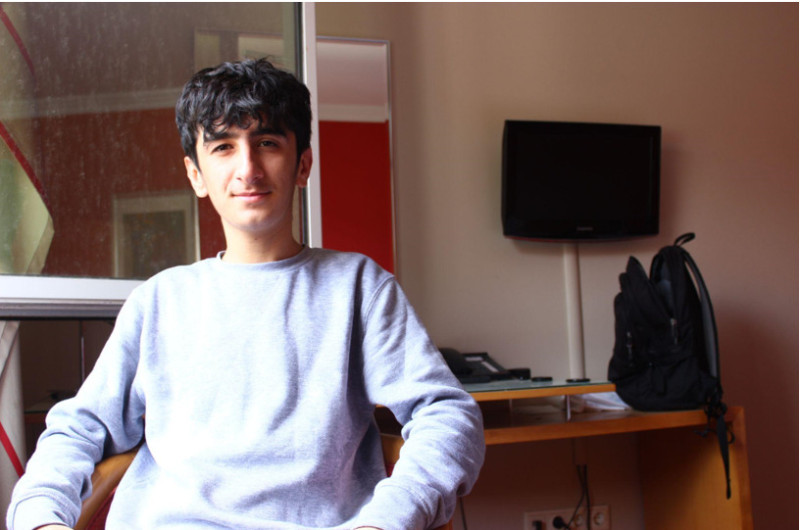 "I've been in Germany for nine months. When I arrived here, I was a minor. At that time
I was in a youth center. The social workers there took care of us a lot, with paperwork and stuff. But after 18 years it was different. Life is now more difficult. I live in accommodation with adults. You sleep next to each other with people you don't know. I want to stay in Germany permanently and have a job. I don't have a direction yet, but I want to find an apprenticeship once I've learned German. Turkey is finished for me.
I don't want to go to Turkey, only if I want to see my family. If I were in Turkey, I would have no future. I want to have a future here. There is an economic crisis in Turkey. I have dreams in Germany. I want to stay here now. I'm Kurdish and I speak Kurdish, so it's better to live here as a Kurd. I have just applied for asylum. After the decision, I'll see if I can stay here. If they were to deport me, they would destroy the life of a young man. I came here alone, two uncles of mine live here. They help me a lot. I'm currently attending an A2 German course. I think the course is great. I want to improve my German. I'm confident that I can speak the language. I like Germany. Here you live the way you want. Nobody interferes in the lives of others."
Mustafa brought a Tesbih or Misbaha (German: prayer chain) from Turkey.
Tesbih or Misbaha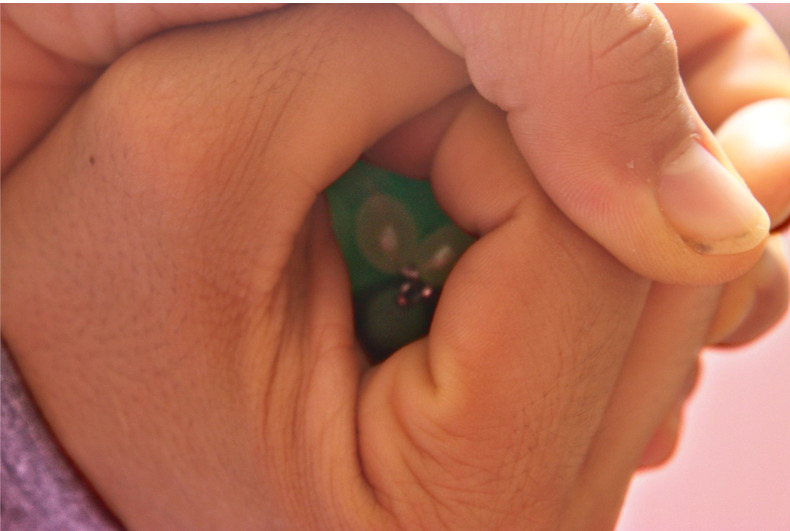 Tesbih and headphones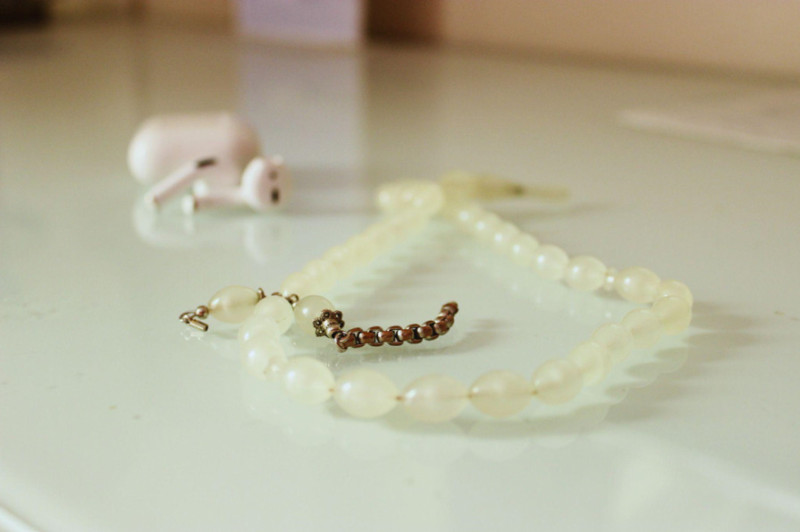 Bohdan, 23 – born in Simferopol, Ukraine. In Berlin since October 2021
"I came to Berlin from Simferopol as soon as I received a student visa, in October 2021. Before that, I lived under occupation in Crimea under the Russian occupation since 2014."
Vyschyvanka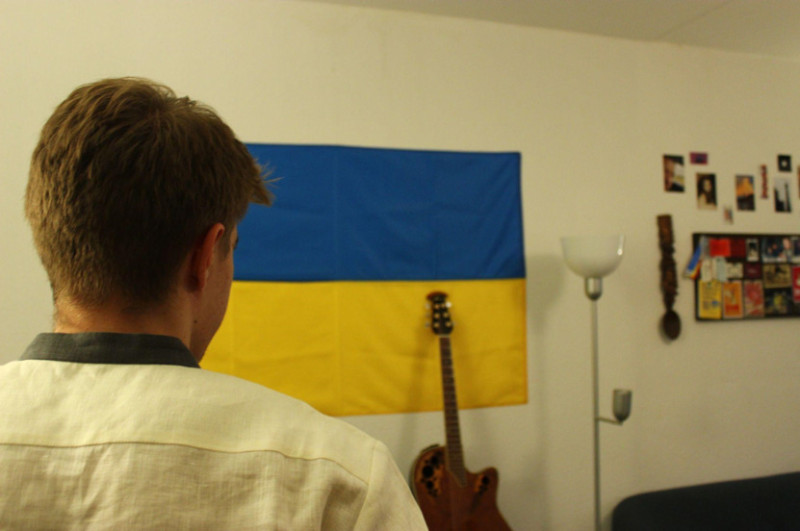 Vyshyvanka – traditional Ukrainian shirt with traditional embroidery patterns.
"The first few months were difficult. As I am enrolled at Humboldt University, I received my admission too late, which is why I applied for my visa very late and received it very late. I missed out on all the adjustment activities, didn't make any friends on the course, had no accommodation for a long time, lived with people I hardly knew "with my bags packed" and was constantly traveling from place to place. Studying was also very confusing because it was was so badly organized and because of the legalese."
Guitars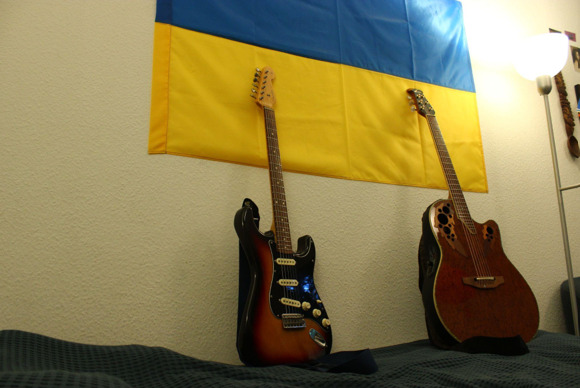 Bohdan loves to play.
"I feel bad now, I'm worried about my family, volunteering helps, activities help. I'm thinking about shortening my studies by 2+ years to go to the Ukraine."
Ring
"This church ring serves as a reminder of an important person in my life."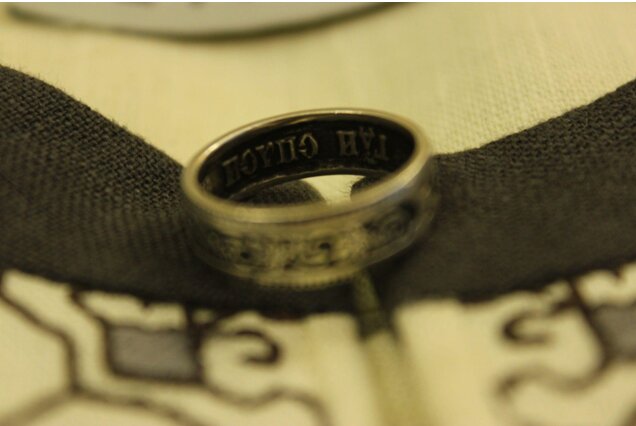 Alla, 32 – born in Kyrgyzstan, in Berlin since February 2022
"I was born in Kyrgyzstan, then lived in Russia and finally moved to Odessa, Ukraine. My son's family is particularly close to me. It's in Berlin that I could really get the feeling of home."
Painted at the tidal ditch
"This is a watercolor painting I did at Flutgraben (Flutgraben – the artists' residence where Alla and Lem lived for six months). This landscape painting symbolizes the beginning of a quiet phase in my life. I felt the desire to live a full life and to paint."
The Virgin Mary from Frankfurt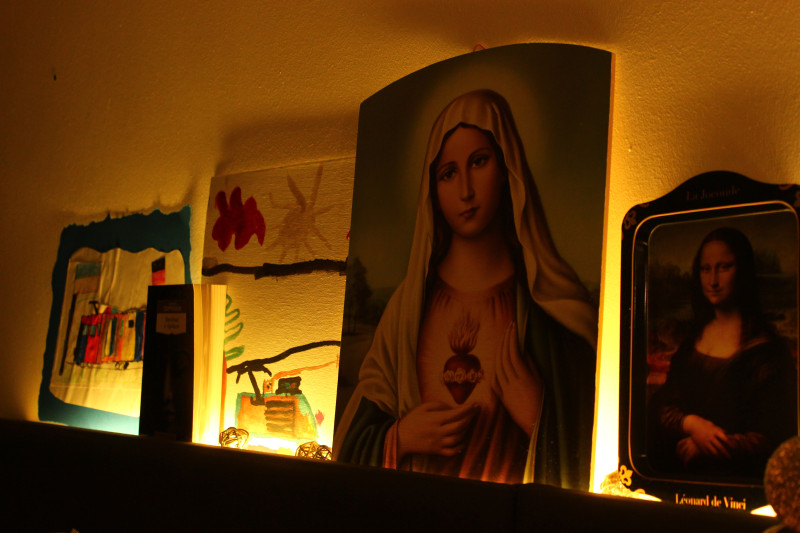 "Souvenirs were once sold in the city center of Frankfurt am Main, among them a reproduction of the Virgin Mary stood out. I couldn't take my eyes off her burning heart in the center of her chest and her loving eyes. Since then this painting has been with me ever since. In difficult moments, her blazing heart in her chest reminds me in my chest reminds me of absolute love and the window that everyone has inside. According to my people can choose when and to whom they open their inner window (meaning the soul – Alla's note)".
T-Shirt for Lem's uncle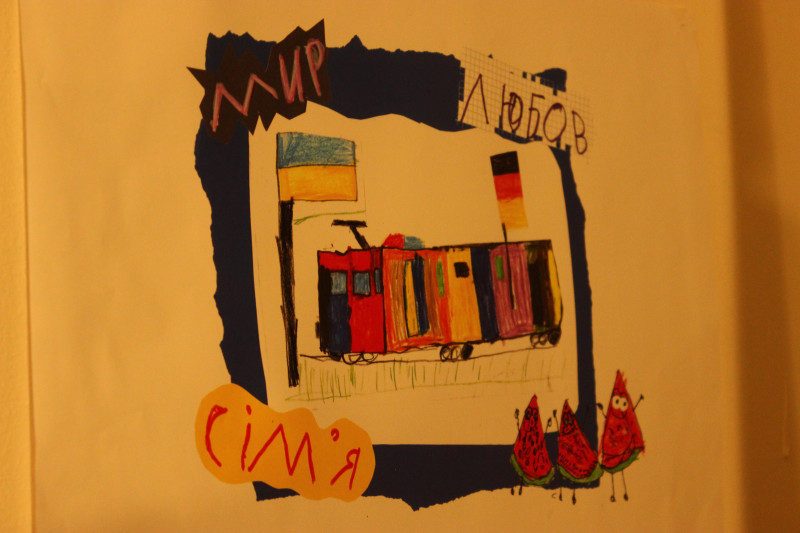 "Kostya (Lem's uncle) is currently serving in the Ukrainian army (VSU). We decided to make an unforgettable and very touching gift for him. We printed photos of Lem and Dasha (Kostya's daughter) on a T-shirt, as well as a drawing of Lem, which says everything for a happy life – "family", "peace", "love" and even "watermelons". The T-shirt also features the German flag as a symbol of gratitude for our peaceful life. This T-shirt reached its owner and since then it is not a simple object: it is a unifying element of our family. Every day I thank Germany for all the help and support."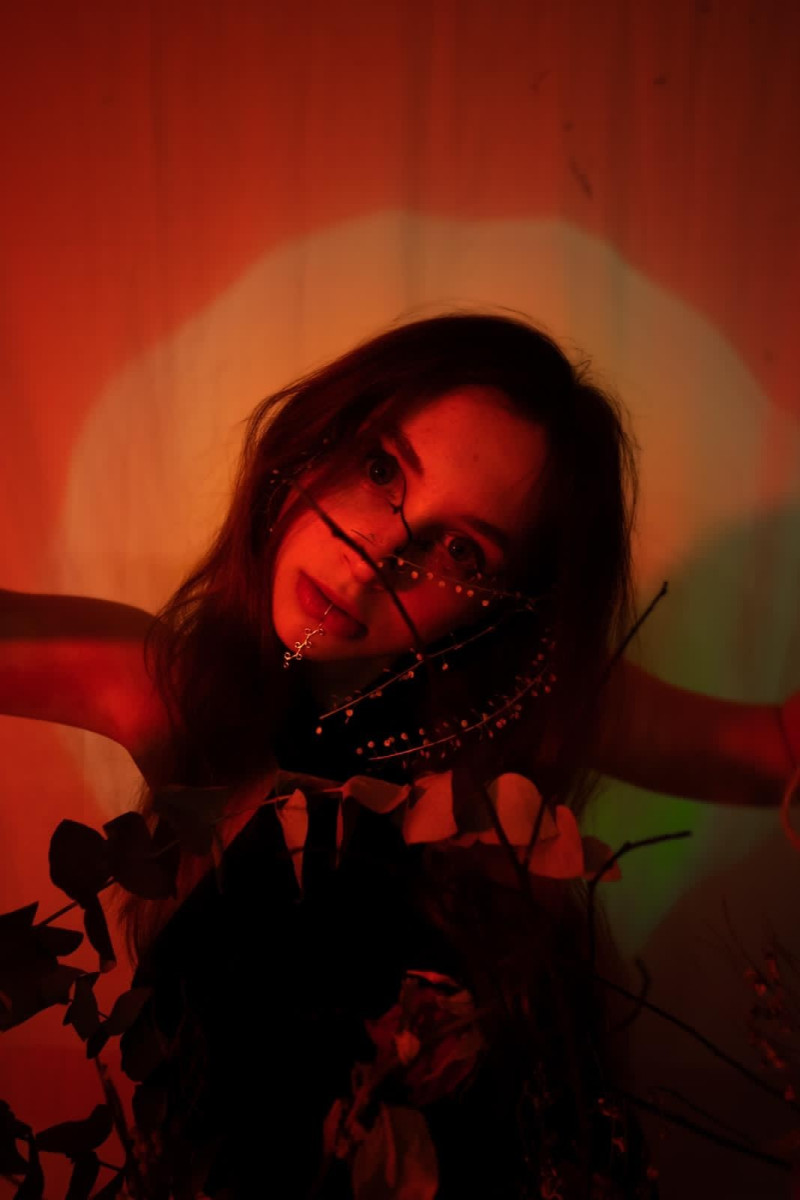 Daryna (Axxi) Degtiarova, 21, musician, producer and cultural manager from Kharkiv, Ukraine. She is currently studying journalism and communication studies at the Free University of Berlin and works at the Initiative Neue Musik. Since her arrival in Berlin in March 2022, she has been working closely with the Cultural Workers Studio to promote Ukrainian culture in Berlin.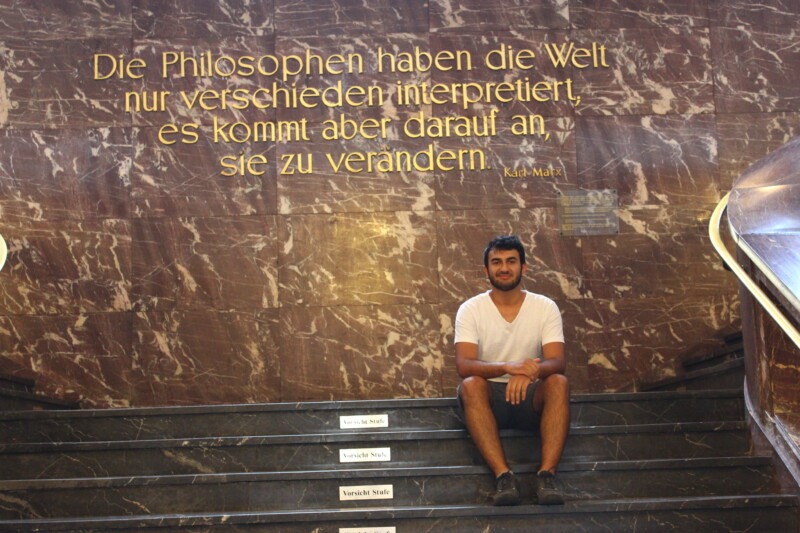 Isa Can Artar, 30, has lived in Berlin since 2016. Originally from Turkey, he has written journalistic texts about Turkish politics. He is currently studying journalism and communication studies at the FU Berlin, a degree he will soon complete. In addition to publishing texts for the Tagesspiegel, he has worked as a student assistant for the We Refugees Archive. Isa has also gained experience as an interpreter for refugees, which complements his professional interests and skills.
As part of the project Flight – Exile – Participation: Citizen Science on historical and current flight experiences as participatory educational work, Axxi and Isa created the photo project "Home in the dormitory".