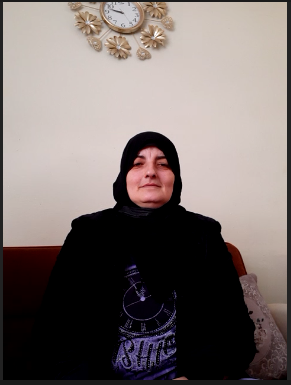 There is a lot of bad people around us, in Syrian and Turkish people, they tried to close our shop, they tried such ways to do that. But we are good people, we have a good heart, we are so welcoming. Anyone needs anything, we tried to support. A lot of people tried to close that place and get out bread from it.
We had robbery for 3 times, we couldn't do anything about it. Because, if we do some actions against some people, they make counter actions on that. So we didn't know, my son's phone was stolen two times on the desk of the shop. He was sitting there with his father and somebody came and stole the phone. We couldn't know really, who did it.
Some of the neighbors here, in front of us, they always ask us: "Why do you have a lot of kids in the house?" They are suspecting that I rent my house for young men or young people. Because they say, "you have 9 kids, how you can have 9 kids?" It was strange for them, to have many kids in the same house. […]
Ebuahmed( Ummuahmed's husband): I would like to add something. We are strangers here. Even if somebody violated our rights or did something wrong to us, we can not ask for our rights, we cannot do any actions, if we do some actions, maybe we will be deported. Moving another place, again, starting migration, again … So whenever we have a wrong thing, whenever somebody make us wrong things or violate our rights, we tried to be blind on that action, to pass by. But if we do something, maybe we have more difficulties, on our live here or other stuff. For us, this is the situation.
Ummuahmed: I have a memory that I can not forget, a couple of years ago we are making barbecue on our balcony. We have an inner balcony. For us, in our culture making barbecue outside of the house is something we don't like. So we make barbecue in our balcony, inside the home and nobody has to do anything with that. But, when we started to barbecue, all the neighbors were coming to our house, they knocked the door, they came to the balcony, they came to outside of our windows and they said "What are you doing? It's wrong, you shouldn't do that!" So we turned off the fire and we stopped it. I can't forget that memory. We stopped, we don't do that anymore, if we need to eat barbecue, we call it from restaurant. We want to be loved, we don't want people to hate us. We don't like that feeling. Because we live with them in their country, so we passed by a lot of stuff they say or do, to maintain good feelings with them.
Ummuahmed fled the war in Syria in 2012, together with her family. Since then they live in Istanbul and run a small shop there. In te interview passage she and her husband Ebuahmed talk about experiences of discrimination and their defenselessness from violations of their rights.
This interview was conducted in English and Arabic by Elif Yenigün for the We Refugees Archive in 2021.