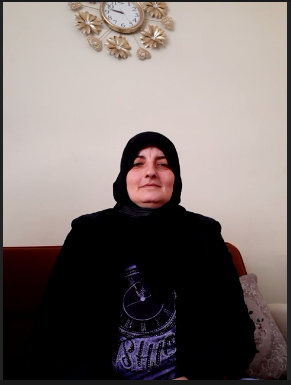 Back then [when we came to Istanbul], we didn't know about Istanbul at all. We had some people, some relatives in Istanbul and they said there are lots of working opportunities in textile factories in Istanbul and you can come and work. So, they came here before us and after them, I came here. I didn't know Istanbul at all. It was only a working place, we didn't know Istanbul or the city. We didn't have any relatives here. For two years, we didn't have any connection with other people. […]
Istanbul is a place, I don't know it's right or wrong. We came here, we wanted to work. But the other kids couldn't study in here. I have three daughters, they should study but they didn't study, because when we came here, we could not send them to school. I was caring so much about my children's study, my younger son is a civil engineer, he is working in Saudi Arabia. The other kids were studying in a university as well. They were studying 12th grade, to take diploma from university but the others couldn't. Because of the war they couldn't continue, and they came here, they have to work, not to study and it was so hard for them.
For me, I studied until the 9th grade. I wanted for my kids to study more because when they study, they can achieve more stuff, I couldn't do that so I wanted them to do that.
But I say "Elhamdulillah (Thank God)," because I see a lot of mothers who lost their children, they had the pain of that loss, I was them. Thank God, that didn't happen to me. The situation now is good, "Elhamdulillah".
Today, I cannot say about Istanbul that it's a home. It's not certain when we will go back. Maybe in one year, the whole situation will be different and I will be in Syria. But if Bashar 11Bashar al-Assad, b. 1965, president of Syria since 2010. stayed as the head of State, we would not go back.
Footnotes

1

Bashar al-Assad, b. 1965, president of Syria since 2010.
Ummuahmed fled the war in Syria in 2012, together with her family. Since then, she lives in Istanbul. In this interview passage, she talks about how she and her family took the decision to go to Istanbul, about her concerns and wishes for the future of her children and about the fact that she still does not feel at home in Istanbul.
This interview was conducted in English and Arbic by Elif Yenigun for the We Refugees Archive in 2021.