Finding a way to be together when social distancing hasn't let us has been the defining challenge of the Covid-19 pandemic. Covid has shaken up global society in 2020, and with it the work possibilities that affect us all – especially the people of migrant communities in Italy and across Europe, on whom this text focuses.
"One mind is not a mind," said Samba, 22, from The Gambia and now living in Rome, Italy, in a recent talk we had about the traps of being physically alone and, especially, isolated in thought during lockdown. "Today is arancione," orange, he said, referring to the color coded zones of restrictions on activity within and among regions in Italy to prevent further spread of the coronavirus.
"We are arancione sometimes. Sometimes red, sometimes orange––you cannot understand what they do," said Samba, about codes that switch so fast they seem to happen mid-stride and that have increased more as corona cases skyrocketed last fall. The restrictions have halted his work that serves also as his primary outlet to socialize.
He was a promoter selling tickets to tours of the Colosseum. Until last March, he stood on the bustling Piazza Venezia in the heart of central Rome greeting international visitors as they stepped off the tour bus affiliated with the company that employed him.
"It's fun," said Samba, "because if you don't speak the Italian language you can still connect." Samba actually speaks Italian fluently, even if his native language is English which gives him an advantage to relate to the scores of tourists typically arriving in Italy on holiday. The encounters brought him joy.
Unlike many people in the migrant community in Italy, he had an official contract for work at the tour company, stretching back three years. This meant his hours and rate were set and his taxes were registered with the Italian state, an administrative offering frequently withheld from migrants whose labor can more easily be exploited at black market rates.
Samba anticipated relief from Cassa Integrazione, the Italian state unemployment fund, but was denied it when at the renewal month of his annual contract, March, it was discontinued due to lack of work from the shutdown. No contract, no subsidy. It's an unlucky coincidence of timing that brought his salary to zero and required him to pull from his savings to pay rent on the apartment he shares with three others.
For Matarr, 33, from The Gambia, in Termoli, a city in the Molise region to the southeast of Italy, it has been a different case. He has maintained contracted employment with the regional public transportation company, Azienda Trasporti Molisana (ATM) for the past five years, kept it throughout the pandemic, sitting out only the first two months when everything in Italy truly stopped; in March and April 2020 he earned 80% of his pay from Cassa Integrazione.
Matarr washes ATM's fleet of buses both inside and out – "the outside is easy," he said – and he performs maintenance on boats or ferries that transport passengers in the summer months when the calmer sea weather can accommodate it. In the winter, the boats are pulled into the harbor where he'll do their mechanical work.
He arrived in Italy in 2014 after crossing the sea from Libya, so speaks Italian fluently after nearly seven years in the country. He went to night school and earned a language certificate, and continues his studies in order to keep improving. Yet his drive to improve both his Italian and his job status – he's also studying for his commercial bus license to work his way up the ranks to driver – is tempered by his compassion for others.
"We share everything [in Gambia]," said Matarr, "what we earn is too small to live alone." He sends almost a tenth of his 1,200 euro monthly salary to his aging mother, who does not have the safety net of a federal pension.
Her earnings from work at a family restaurant are so low Matarr describes them as "hand-to-mouth" just enough to cover housing, utilities and some food, but nothing to burrow away for slimmer months, much less a retirement.
His roommate, a Senegalese man, who lost the bulk of his restaurant work when Covid-19 struck, is also on the receiving end of Matarr's support. His contract was written for half-time shifts, four hours a day instead of the 8 he actually clocks, so his employer saves on tax fees in the face of projected low or insecure revenues.
Meaning, the wage percentage Matarr's roommate is eligible to receive from Cassa Integrazione is based on a rate at half of what he actually earns, thus leaving him with a reimbursement that's a fraction of his total monthly living costs.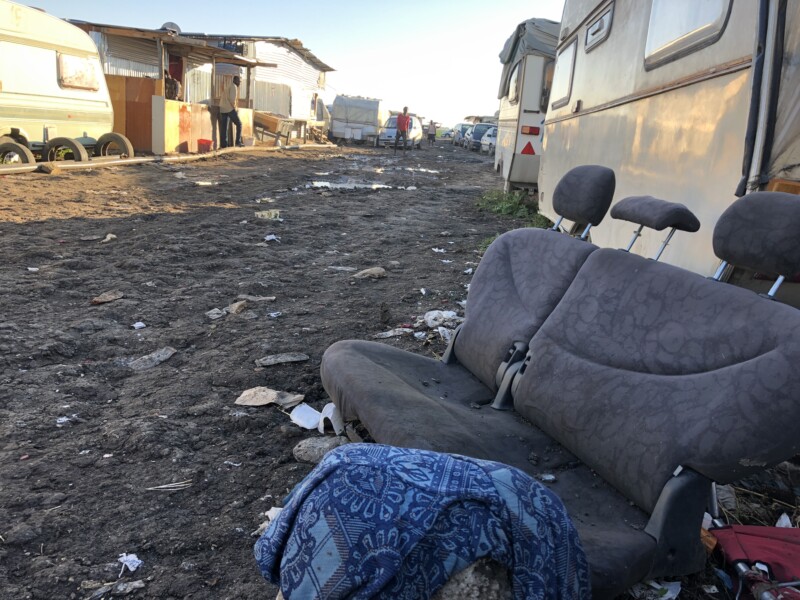 Matarr picks up the rest, but says contracts like his roommate's are common among migrant and Italian workers alike, so it's not only people in the migrant community affected by the deficiency.
In any case, his interests do not lie with how much he can individually earn and spend. "I don't need a salary to be rich," said Matarr, "just to live." He wants the same for his friends and neighbors, but understands too that's hard to come by.
The agricultural industry in Italy is infamous for its lavoro nero, or black market labor practices, that prey on migrant field laborers. Some will be forced into desperate living conditions in ghettos, which function in synchronicity with the agricultural industry. In more common cases, people will be paid less than five euros per hour for a shift that can last up to 12.
Those people, says Matarr, were stuck at home with no certificate to show they were authorized to venture out for work, limiting their socialization; and have had no food nor government support. At this point "there's no possibility to integrate, there's no future" for them, said Matarr.
And he's not the only one to notice. Everyone in the migrant community will witness friends, neighbors, or other unknown African migrants living homeless on the streets. "I have friends and lots of other people who tell me of the problems they are facing," said Babou, 31, in Mestrino, a city in Italy's northeast near Padova.
His approach is underlined by compassion too. He has taken homeless friends in for showers and meals, and sometimes allowed them to stay in his living room for the night. They might be Nigerian, Cameroonian, Gambian – it doesn't matter, he says, he wants to help. If he sees you in distress, he said, "I just want to see you happy."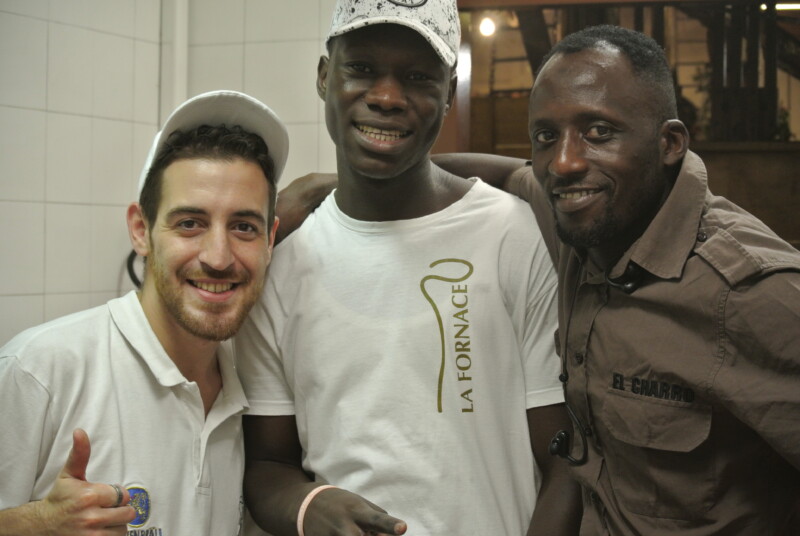 Although he has kept his job as a prep cook, the usually bustling dine-in restaurant La Fornace in Mestrino where Babou works has suffered losses and has had to lay people off. One of them was the dishwasher, Buba (Gambia), who has spent the past six months mostly sitting at home: with no customers inside the restaurant to dine, there are no dishes to wash.
Babou's hours and therefore pay have been reduced now that La Fornace is open from 7:00pm to accommodate take-away orders only, and closes by 9:30pm to meet the 10:00pm curfew in effect in the region. What would normally be a 10-hour shift a day for him has fallen to four. 80% of his contracted salary was promised to him by the Cassa as well, but it came late and he missed two rent payments. He is in a repayment period with his landlord now.
Babou faced financial distress to the degree that he himself had no money for food at points across the year. His manager Stefano at La Fornace has given him groceries and hot meals in support. His colleagues at La Fornace treat him like family.
"That's what I can say about Italians," said Moses, 35, from Nigeria and living in Baexem, Netherlands, "They have the heart of giving."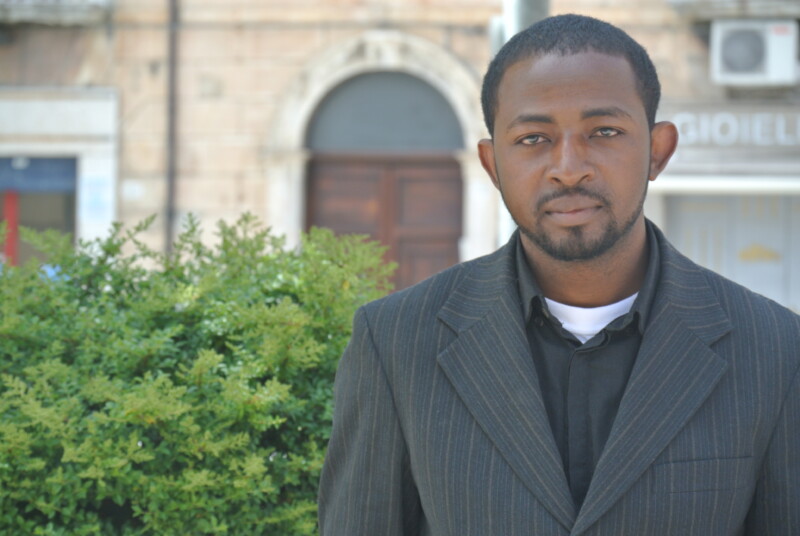 He lived in Isernia, Italy, in the Molise region like Matarr, for years before relocating himself to The Netherlands in September last year.
His testimony comes from long days of standing outside grocery stores where customers would take pity on him with pocket change or a euro. His offer was to help them carry their bags, but mostly he was just handed the money without exchange. There was otherwise no work for him except the occasional lavoro nero on a farm.
Moses' unemployment continues in the Netherlands, since he is in a holding pattern between the Italian and Dutch governments about his residency on account of Dublin regulations. So for him, and for the prevailing majority in the migrant community in this way, the pandemic is besides the point.
Even before Covid-19 the top complaints among people immigrated from countries in Africa or elsewhere to Italy was the slow acquisition or denial of documentation, and lack of work.
The pandemic has only exacerbated these problems and the marginalisation they already suffered.
The question is whether compassion and inclusion, as exemplified in the migrant communities, can lead to greater social cohesion overall. Samba said that although he is down at the moment, he is not out. "I have not given up. I haven't stopped," Samba said, "I will continue." We would be wise to follow his example.
Pamela Kerpius is the Founder and Italy Correspondent of Migrants of the Mediterranean (MotM). MotM is a Humanitarian Storytelling organization documenting individual journey stories of the people who have crossed the Mediterranean Sea from their countries of origin to Italy, and beyond.
Links:
• http://www.migrantsofthemed.com/motm-exclusive-going-homeless-in-gran-ghetto
• http://www.migrantsofthemed.com/routed-magazine-lost-humanity-in-human-resources
• https://www.migrantsofthemed.com/meet-baboucarr
• https://www.migrantsofthemed.com/meet-moses