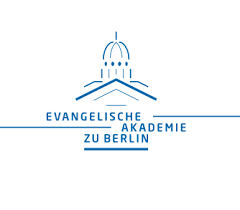 The events of the Evangelische Akademie zu Berlin deal with democratic culture, politics, education, religion, etc. Together with the We Refugees Archive, it organized the symposium "Experiences of Flight in Past and Present. Continuities and Discontinuities". The event  took place on 15 May 2020 in the Blue Hall of the Evangelical Church of Germany in Berlin and was broadcasted live due to the Corona Pandemic.
In terms of content, the event followed on from the We Refugees Archive programme and explored the question of the comparability of past and present experiences of flight. It commenced with the lecture "Journeys from the Abyss: Refugees then and now" by Tony Kushner in English, the transcript of the this lecture can be read in German and English here. This was followed by a literary reading on flight and exile experiences with the Kurdish-Syrian poet Widad Nabi (in Arabic and German) and Jutta Rosenkranz, who will present the life and work (poetry and prose) of Mascha Kaléko (in German). Works by both writers are part of the We Refugees Archive. The lecture and reading were followed by a discussion. The event was moderated by Melina Borčak.
We thank the participants for their stimulating contributions and the Evangelische Akademie zu Berlin for its support.
The event can be seen in full length here.
Programm
Welcome
Dr. Anne von Oswald, Project leader of We Refugees – Digital Archive on Refugeedom, Past and Present
Lecture: Journeys from the Abyss: Refugees then and now
Prof. Dr. Tony Kushner, Parkes Institute for the Study of Jewish/non-Jewish Relations and History Department, University of Southampton
Reading
Widad Nabi, Kurdish-Syrian poet and author
German translation read by Annett Gröschner, author and journalist
Jutta Rosenkranz, author and biographer of
Mascha Kaléko, poet and author (1907-1975)
Moderation
Melina Borčak, journalist, moderator and film-maker