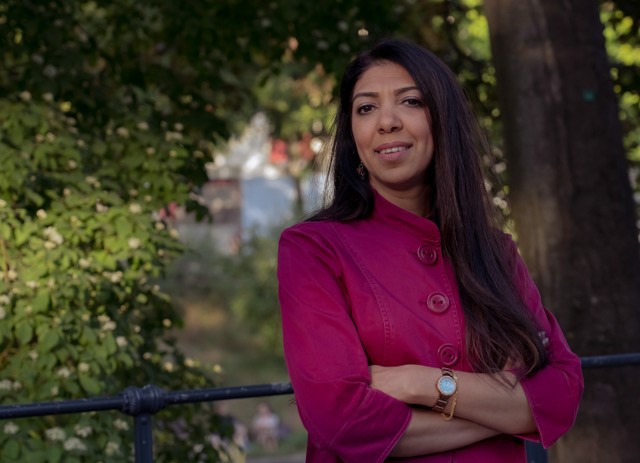 I'm always open to new things and there is no thing that I am stuck to. The only thing that I stuck to and the thing that is stuck to me is journalism. I can't leave it and it can't leave me. […] It's just me. Everything else is changing. At a certain stage in my life I thought that I would never leave my country. But here I am and it's the fourth year abroad. So, things change. I have my values that I stick to: human rights, democracy, equality … They will not change. […]
Working for German media is something that I want to do in the coming years. It will be interesting for me to see how they work here because it's different in every country. And for them I want to be the Gulfi journalist who also has a view of that region and I'm also living here so I can mix the perspectives. […]
And it was always important for me to be independent in my journalistic work. This is why I work as a freelancer for so many years now. […]
I also – when I came here started to train journalists from the MENA [Middle East and Nord Africa], and this work is also important for me. Also because you get to know new people. And this was also something new for me. […] I love doing it and I still do it because it serves my purpose of advocating the freedom of press and the freedom of the persons who do it. If we train them how to stay safe while during their job we also empower them in their work. […]
I believe in change. Somebody who does not change, or a system that doesn't change, will not last. Life taught me that everything will change – to the worse or to the better – but it will change.
Nazeeha Saeed worked as a journalist for international and local media in Bahrain for over 20 years. From 2011 she was exposed to state repression because of her journalistic work, especially on human rights issues. She was arrested and tortured for her critical reporting on the democracy protest movement, which erupted in Bahrain in the course of the "Arab Spring." Nevertheless, she remained in the country until 2016 and was an activist for freedom of opinion and freedom of the press. In 2016 her journalistic license was revoked and a travel ban was imposed. She was sued for allegedly continuing to work as a journalist despite having her license revoked. As soon as the travel ban was lifted for a short time, Nazeeha Saeed left the country out of fear of further arrest. She first came to Paris to continue working with her previous clients. International organizations for free press work supported her in starting over in Europe and she succeeded in obtaining a right of residence even without asylum proceedings. She has been living in Berlin since fall 2019.
Nazeeha continues her journalistic work in Europe. She continues to write about the situation in Bahrain and the Gulf region, especially about human rights issues such as the situation of guest workers, women and LGBTIQ* persons. She also publishes articles on the situation in Europe, especially on exile life in Paris and Berlin. Nazeeha Saeed is committed to free journalism and gives empowerment and strategy workshops for journalists working in areas of political conflict. Because of her work she has become the face for violations of freedom of the press and freedom of opinion in Bahrain, which ranks 169th out of 180 in Reporters Without Borders' press freedom index.
In this excerpt of the interview that Nazeeha gave to the We Refugees Archive in July 2020, she talks about her vision and her belief in change. Being basically open for change in life, she will stick to one thing: journalism.
This interview with Nazeeha Saeed was conducted by We Refugees Archive, 15 July 2020.