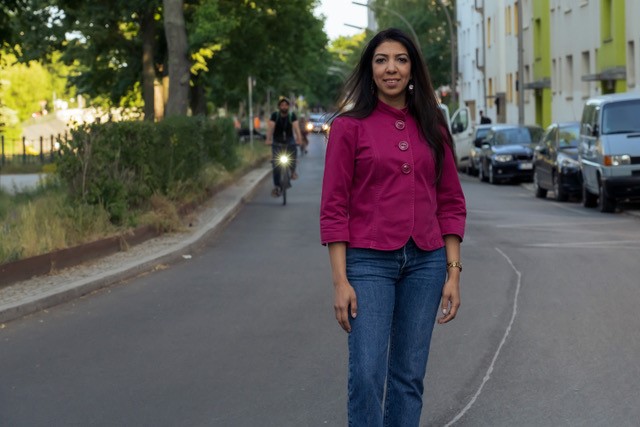 When I left, I was – psychologically – not able to work for a few months. I was looking for a place to stay and food and things like this, you know, I just tried to live. But then, because I have a large network in Europe of media that I worked for for very long years, they started to write me mails, like: Can you write this article for us? So I said to myself: Maybe I should just go back to work instead of just sitting upset. So I started working again doing more analytic, deep articles about the region where I come from, Bahrain, but also subjects that apply to all the Gulf. When you are outside you start to have that distanced overviewing point of view. This is where I came to. When I was inside, I was doing very intensive journalistic work, like breaking news, reports … all of this. I was the correspondent for French radio and TV channels, but I also wrote for different newspapers in the Arab world and international.
Here, I also noticed that people don't really know a lot about Bahrain and the Gulf. So I thought maybe it's my turn to let them know more about it. So I started to write for French platforms in English and they were translating it. So sometimes I write about country-specific subjects but sometimes also about general topics of the Gulf, like the situation of migrant workers, women … I care about politics and human rights, especially gender and women rights.
I also started being an activist for freedom of press. This I started in 2011 when I was arrested. During the arrestment [sic], the interrogations and even the torture I realized that all the anger that they have and the punishment that I get is for my voice, for the opportunity that I have in my hand by being a journalist. The minute I left, I was like: I will not be silent! These people want to silence me and that will not happen. I started to be aware of my voice and the opportunity that I have: my pen, my computer … to voice what's going on. And also to defend my colleagues because I see the fear getting into them because what happened to me or what happened to them. Like: "No, I not gonna write about this, because I am scared." So I say: "No! Don't let them do this to you!" Or I would go attacking the authorities because they were attacking and silencing my colleagues. […] If somebody got arrested from my colleagues I would leave the house, go to the police, ask where he is, writing tweets about it, reporting about it. I made a lot of trouble and sometimes it worked and they just let somebody out, but sometimes of course not. We have journalists who are still in prisons since 2011, 2012 and we are still talking about them, but you know, the world is so crazy that these got forgotten sometimes. Not for me! They are in my heart and I will always work for them to become free.
Nazeeha Saeed worked as a journalist for international and local media in Bahrain for over 20 years. From 2011 she was exposed to state repression because of her journalistic work, especially on human rights issues. She was arrested and tortured for her critical reporting on the democracy protest movement, which erupted in Bahrain in the course of the "Arab Spring." Nevertheless, she remained in the country until 2016 and was an activist for freedom of opinion and freedom of the press. In 2016 her journalistic license was revoked and a travel ban was imposed. She was sued for allegedly continuing to work as a journalist despite having her license revoked. As soon as the travel ban was lifted for a short time, Nazeeha Saeed left the country out of fear of further arrest. She first came to Paris to continue working with her previous clients. International organizations for free press work supported her in starting over in Europe and she succeeded in obtaining a right of residence even without asylum proceedings. She has been living in Berlin since fall 2019.
Nazeeha continues her journalistic work in Europe. She continues to write about the situation in Bahrain and the Gulf region, especially about human rights issues such as the situation of guest workers, women and LGBTIQ* persons. She also publishes articles on the situation in Europe, especially on exile life in Paris and Berlin. Nazeeha Saeed is committed to free journalism and gives empowerment and strategy workshops for journalists working in areas of political conflict. Because of her work she has become the face for violations of freedom of the press and freedom of opinion in Bahrain, which ranks 169th out of 180 in Reporters Without Borders' press freedom index.
In the interview that Nazeeha gave to the We Refugees Archive in July 2020, she talks, among other things, about how her journalistic work in Europe changed. She also repeatedly draws attention to the state persecution of critical journalists in Bahrain, for whose release she continues to campaign.
This interview with Nazeeha Saeed was conducted by We Refugees Archive, 15 July 2020.